Feeding South Florida, the leading domestic hunger-relief organization in South Florida, will host its Eleventh Annual Outrun Hunger 5K, presented by JM Family Enterprises, April 2. Returning in-person to the scenic Hollywood Beach Broadwalk, 500 runners, families, and community leaders of all ages will come together to take steps to raise funds and awareness to end hunger. In South Florida, there are more than 700,00 food insecure individuals, and 1 in 9 individuals remain uncertain about where they will get their next meal.
Registration will begin at 6:45 a.m. and the 5K will begin at 7:30 a.m. After the race, an award ceremony and a raffle will take place. The race fee is $35, with a $4.50 sign-up fee.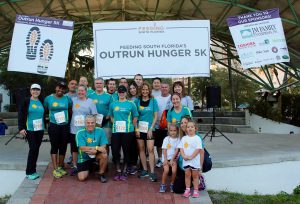 Participants can join the event as an individual or a team. Medals will be given for the top three places in each age category and overall best times for men and women. Those not participating in the race may also support the organization by creating a personalized fundraising page. To create a customized fundraising page, click here. Runners and walkers can also create a custom fundraising page during registration.
Facebook Comments