Mascots, a word originating from the French term for "lucky charm," are a two-centuries-old tradition that fans embrace, celebrate, and emulate. The Las Olas Company has introduced its own mascot, Laslo, a colorful peacock, in an effort to create the same excitement, spirit, and sense of joy.
"Laslo gives all of us a sense of hope and lightness during a challenging time," said Pam Zirkle, The Las Olas Company property manager. "We know patrons of all ages will enjoy spotting him on merchandise and around the Boulevard in many forms for many years to come."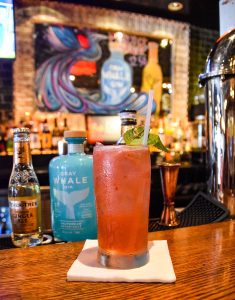 Tenants along the famed boulevard are embracing the new mascot in a variety of ways. At Big City Tavern, the "Peacocktail" features Blue Whale Gin, mixed with raspberry and citrus flavors, and garnished with mint. Laslo is also painted on the mirror behind the bar and touts the specialty beverage for $12.50.
A few blocks away, designer gown boutique owner Zola Keller has a stuffed animal Laslo displayed in her storefront window. As one of the longest standing tenants on Las Olas, Keller and her husband, Ave, have been in the fashion business for more than four decades. Loyal customers visit their well-known store from all over the world to experience one-on-one attention not available online.
Although the pandemic has affected the entire fashion industry dramatically, the Kellers remain optimistic about the future and fiercely loyal to their Las Olas home. "Just like Laslo's beautiful open peacock feathers," said Zola. "We are welcoming everyone back to the Boulevard, as there's nothing like it in South Florida."
Follow Laslo on Las Olas on Facebook and Instagram @TheLasOlasCompany.
Facebook Comments