Circle House Coffee is brewing up something special for summer. The Flagler Village coffee house, founded by retired NFL Linebacker Stephen Tulloch, will invite local artists, musicians, poets, and members of the community to participate in Summer Series, a celebration culture and creativity in support of charitable causes.
Tulloch opened Circle House Coffee in 2018 to provide a unique space for locals to gather, create, and connect. With Summer Series, he endeavors to take this mission to the next level. Summer Series will feature free weekly event nights at the shop highlighting local art, music, poetry, and businesses for the entire community to enjoy. A portion of each night's proceeds will be donated to local charities.
The Circle House Coffee Summer Series will kick off with a launch event May 13. The coffeehouse will feature works by local artists on the newly opened patio on Wednesdays; local poets will take center stage on Thursdays; and local bands, singers, and musicians will perform on Fridays. All events are family-friendly, dog-friendly, and free to attend.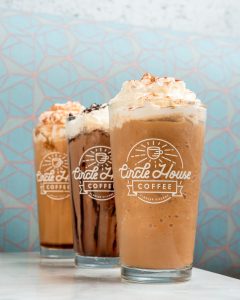 Circle House Coffee is also launching a line of seasonal cold beverages for the Summer Series, including: Summer Series Refreshers in flavors such as blueberry lavender, watermelon mint, and tropical; fruit smoothies; and new frozen lattes in caramel, oat, Oreo, and horchata.
Local artists who want to be a part of the CHC Summer Series should email their information to admin@circlehousecoffee.com.
For more information, click here.
Facebook Comments