The Details: When it was built in 1925—not far from a popular brothel—this hotel was a favorite beachside getaway of notorious gangster Al Capone. He and his crew moved in for some time, reportedly engaging in all manner of unsavory activities in their second-floor hangout—including Room 202 where several murders are said to have taken place. 
The Chills: Guests and staff have told tales about an apparition known as the Choking Ghost, believed to be the entity of a former brothel worker who was strangled by Capone's gang on the second floor. Guests on the seventh floor have reported floating orbs, disembodied voices, random cold spots, strange lights glowing from out of nowhere, and ghostly manifestations in a myriad of forms.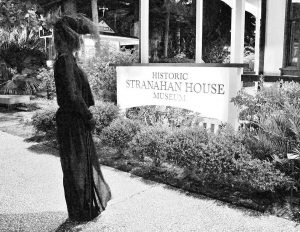 The History: It just makes sense that Broward's oldest (still-standing) building would be haunted. Built in 1901 by Fort Lauderdale's first postmaster, Frank Stranahan, and his wife, Ivy, what was once a family home is now a museum. Left destitute after the Florida land boom bust of 1926, Frank drowned himself in the river that flows in front of the house. Ivy, who is widely regarded as the mother of Fort Lauderdale, lived there until she died in 1971, at age 90.
The Chills: Just days after Frank's death, reports of his ghost haunting the home began to circulate (including a popular tale about his favorite broken clock that began to tick and chime again). More modern reports say it's Ivy's ghost who wanders the home. Some have said the smell of a woman's perfume will suddenly scent one of the rooms, and that a bed shows the imprint of a reclining ghost. Most eerily, though, it's rumored that if you call on the spirits of Frank and Ivy while visiting their home, their ghostly grins will appear in a photograph you take. Talk about a spooky selfie! 
The History: It was once in service as Fire Station No. 3. But today the 95-year-old firehouse-turned-museum is known as a haunted house.
The Chills: Before the station was decommissioned, firefighters assigned there reported a range of eerie happenings—from spectral figures spotted in hallways to channels randomly changing on the TV. But the main entity reported in story after story was that of a large man, believed to be a former firefighter named Robert Leland Knight. In 1940, 28-year-old Knight answered a call to an apartment fire. He was over 6 feet tall, and the station had no protective boots to fit him. He was electrocuted when he stepped in a puddle into which a downed power line had fallen. He'd been on the force only 12 days. Firefighters at the station used to report seeing Knight's ghost charging through rooms, sweeping items off of tables, and peering through windows. 
The History: Built in 1918, this schoolhouse served as many as 90 students in what was then a mostly agricultural community. The building was the first permanent school in the Florida Everglades. Today, the Old Davie School is the oldest existing school building still in its original location in Broward County, and it houses the Old Davie School Historical Museum, which hosts exhibits about local life and agriculture in the 1920s.
The Chills: Some visitors say they hear voices or get weird feelings when walking the halls of the school—especially after dark. Paranormal investigators have captured voices and lights; others claim to have heard mysterious sounds and seen handprint impressions on the walls in the corridors. 
The History: After losing his citrus grove to frost, Philemon Nathaniel Bryan started over in 1895, moving to Fort Lauderdale with his wife and seven children. He was given the job of supervising the laborers laying track for Henry Flagler's Florida East Coast Railway. With money he'd saved, Bryan decided to build a hotel across from the railroad station. Opened in 1905, The Bryan Hotel offered lodging to railroad men and other travelers coming through town. In the last decade of his life, Bryan lived—and eventually died—in the hotel. 
The Chills: Today, the structure is known as New River Inn, a museum that pays homage to Florida's past and pioneer life. But it's better known among locals for its ghostly manifestations. After hours, visitors peering through the front door say they've seen the stern face of a white-haired gentleman who may be Bryan's ghost—including his disembodied arm and hand. Others have reported seeing an apparition of a man clad in a leather coat. He's said to be the ghost of a visiting railroad man, pacing the first floor and front porch impatiently. Still others have spotted the manifestation of a little girl thought to be LuLu Marshall, a child in Ivy Stranahan's first class of elementary students in 1899. 
Facebook Comments