Fort Lauderdale is notorious for its gorgeous skylines, impeccable weather, serene beaches and, most importantly, its abundance of mouthwatering dining establishments. New eateries of every cuisine seem to sporadically pop up at any given moment here in the 954—not that we're complaining.
To find out which up-and-coming restaurants in Fort Lauderdale were among the most esteemed, we turned to our readers to make the call through an online poll answered by nearly 500 voters. From fast-casual eats to waterfront dining, here is your unrivaled dining guide to the best in town.
BEST SURF AND TURF
Del Frisco's Grille
When you can't choose between ordering a buttery lobster or a juicy steak, it can be a challenge finding a restaurant that has mastered both surf and turf. Luckily, Del Frisco's Grille on Las Olas Boulevard makes it look easy. Situated in the heart of downtown Fort Lauderdale is a high-quality American dining experience.
"We always anticipated that our vibrant atmosphere and approachable bar and grill menu consisting of Del Frisco's staples like fresh seafood and prime, hand-cut steaks were a perfect match for the lively Fort Lauderdale community," says general manager Scott Kurzawinski.
From its signature cheesesteak egg rolls with sweet and spicy chili sauce and honey mustard, to artichoke beignets with fontina cheese, Parmesan and sweet basil dressing, Del Frisco's shareable appetizers are must-tries. Pair the restaurant's filet mignon or pan-seared scallops with one of 100 wines rated 90 points or more. Not sure which wine to pick? No worries; ask for assistance by in-house sommeliers who aim to pair the wine best-suited for your meal.
501 E. Las Olas Blvd., Ste. 150, Fort Lauderdale; 754.312.3235; delfriscosgrille.com
BEST ASIAN
ETARU
Contemporary Japanese cuisine, fine dining and downtown views create an unmatched dining experience that can be found at ETARU Las Olas. The upscale eatery's indoor and outdoor seating revolves around its robata grill—one of Japan's oldest cooking methods—and is a historical contrast to the restaurant's modern light wood and stone theme.
"With the opening of ETARU Las Olas in June 2018, we felt that we were bringing something new to the dining scene in downtown Fort Lauderdale," says chef Luca Spiga. "With small plates perfect for sharing, we've been able to introduce our signature robatayaki cuisine to diners, alongside our raw menu."
Stop by for ETARU's exceptional Sunday brunch. For $55, you'll be greeted with your cocktail of choice, bottomless Whispering Angel wine and a plethora of raw bar options and robata dishes, all followed by a main course dish and a special dessert platter for your table. If you're feeling extravagant, upgrade to Louis Roederer NV Champagne for $20.
500 E. Las Olas Blvd., Fort Lauderdale; 954.477.8068; etarurestaurant.us
BEST BAR
Township FTL
Whether you're having a girls night out, watching your favorite sport or needing a great drink with better people, Township is the place to go. The upbeat atmosphere and unbeatable prices attract patrons for delectable brews and bites. With sister restaurants, including the popular YOLO, TRP Taste, Boatyard and Rooftop @1WLO, it's no surprise Township has garnered so much attention.
"Township has a great beverage business, but we've also put a lot of pride in our food menu," says Peter Boulukos, executive chef and co-founder of The Restaurant People. "We are [a] from-scratch kitchen with a wide variety of menu offerings, so whether you're coming in on a lunch break, for a sporting event or dinner, there's really something to please everyone."
Choose from a vast selection of imported and domestic beers from Township's 72 taps, with brews from Stella Artois and Funky Buddha to Harpoon and Barrel of Monks. And if you're feeling adventurous, sip on the bar's beer cocktails, like the Gaarden Gala (Svedka vodka, peach, citrus and Hoegaarden beer), or Rosetta Storm (Havana Club rum, ginger beer and Rosetta beer).
219 S. Andrews Ave., Fort Lauderdale; 954.338.4070; townshipftl.com
BEST COFFEE
Press and Grind Café
Caffeine during a busy work week keeps the city of Fort Lauderdale going. Sure, you can grab a cup of brew at Starbucks, but locals' favorite new place for a caffeinated beverage is Press and Grind Café. Not only does it offer high-quality, single-origin espresso and coffee drinks, but also freshly pressed juices, organic smoothies, açaí bowls and fresh sandwiches, salads and wraps. Press and Grind also sells locally roasted coffee from places like Argyle Coffee and Bingo Coffee.
"I wanted to offer something that I hadn't really seen before in South Florida; a place where everyone could gather, get a smoothie or a really good cup of coffee and grab a bite to eat, and not [have] to settle for prepackaged foods," says owner Joe Sloboda. "We make all of our dishes fresh to order, and just about everything is made from scratch, other than a variety of fresh pastries that are delivered from local bakeries each morning."
Start your day off with Press and Grind's coffee shake, made with a double shot of its house-blend espresso, vanilla extract, almond milk and espresso beans. For lunch, snag a grilled steak and cheese sandwich, made with grilled-to-order Julien-cut marinated skirt steak, marinated onions, fresh arugula, melted Gruyère cheese and horseradish-flavored cheese spread all on a freshly baked baguette.
474 N. Federal Highway, Fort Lauderdale; 954.909.5316; pressandgrindcafe.com
BEST FAST-CASUAL
Vale Food Co.
Envision the lovechild of Whole Foods and Chipotle, and you have something like the creation of Vale Food Co. One of South Florida's fastest growing quick-service healthy eateries, it's no surprise Vale triumphed as Fort Lauderdale's best fast-casual restaurant. With locations in Jacksonville, Tallahassee, Gainesville and Tampa, Vale's build-your-own-bowl concept has quickly found its home in South Florida.
"I'm confident that Vale Food Co. won best fast-casual restaurant because our guests know the value we have added to the Fort Lauderdale community," says Sunny Ilyas, CEO and founder of Vale. "I'm honored to achieve this traction in the short amount of time being open, but the credit goes to our motivated team raising the bar and producing high-quality food and service daily."
From its savory poke bowls to fruity açaí bowls, Vale proves that eating fresh doesn't have to take up all of your time. For a quick and filling lunch, get the regular bowl with brown rice, roasted sweet potatoes, roasted broccoli, ancho pulled chicken, avocado Caesar sauce and feta cheese.
420 N. Federal Highway, Fort Lauderdale; 954.681.9119; valefoodco.com
BEST HEALTHY EATS
The Hummus House
It can be pretty easy to miss The Hummus House if you're not on the lookout. Fort Lauderdale locals consider this Israeli hot spot, located in Victoria Park where Eat the Tea once resided, to be a hidden gem for its entirely meatless menu and, of course, freshly made hummus.
"We proudly prepare all our food from scratch with the freshest ingredients and make sure we preserve the authentic flavors in every dish," says Muli Shalmi, a chef at The Hummus House. "Our meatless twist on popular Middle Eastern eats is what makes us unique."
Try the meatless shawarma pita made with hummus and grilled "chicken" shawarma to fool your taste buds into thinking you're eating the real thing. Wash it down with a frozen limonana, an Israeli take on a lemonade slushie.
900 NE 20th Ave., Fort Lauderdale; 954.314.7686; thehummushouseftl.com
BEST HAPPY HOUR
The Balcony
Sometimes, the best place to go straight after work isn't the comfort of your own home, but the nearest happy hour. With a seemingly never-ending list of specials in South Florida, it doesn't get better than The Balcony. Mardi Gras is a daily festivity at this two-story, New Orleans-themed Fort Lauderdale restaurant, and its happy hour deals are hard to beat. From 4 p.m. to 7 p.m. Monday through Friday, enjoy your favorite brews and tapas-style bites for half-off; on Hump Day Wednesdays, happy hour starts around lunchtime and lasts all day long, from 11:30 a.m. to 7 p.m.
"At The Balcony, we love our happy hour crowd," says chef Simon Porter. "Our unique, New Orleans-inspired bar bites and cocktails allow guests to change things up from a traditional happy hour menu."
Make full use of the $1 raw bar during happy hour, or dig into The Balcony's other seafood specials, like its Allen Bay ceviche, jumbo lump blue crab salad or the Caddo Parish colossal shrimp cocktail. Even when happy hour is over, keep the party going at the second-story open-air bar with craft cocktails and a live DJ.
1309 E. Las Olas Blvd., Fort Lauderdale; 754.200.6344; thebalconylasolas.com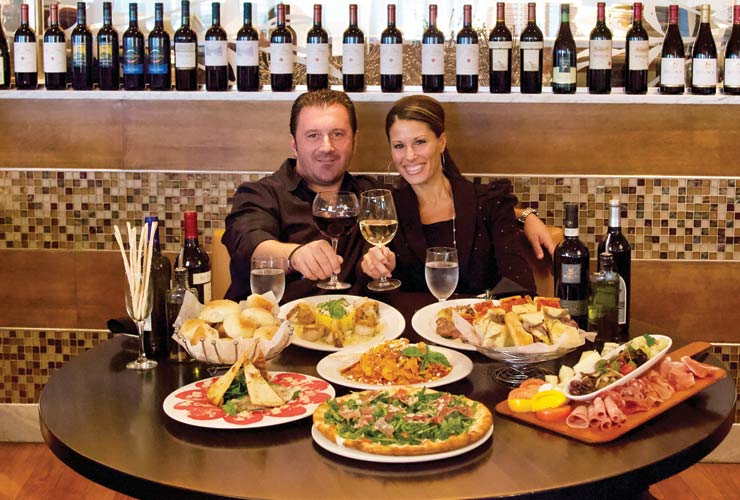 BEST ITALIAN
Tuscan Prime
It's astounding this restaurant would win its category; simply because it hadn't opened before our online poll took place. With an expected opening this month, anticipation brought Tuscan Prime its win. To experience beloved Italian culture without leaving the area code, Tuscan Prime should be next on your restaurant list. Located in the former Grille 401 space, the Las Olas establishment's elegant decor and warm ambience will be the perfect complement to its prime steaks, bona fide Italian dishes and specially crafted wine list.
"Bringing the best authentic recipes from our home in Naples paired with superb service is our recipe for success," says Michele DiMeo of Monte Restaurant Development, the group responsible for Tuscan Prime.
Celebrate special occasions with cocktails under the olive tree in the lounge, or enjoy views of Las Olas by dining on the outside patio during a romantic date night or relaxing evening with friends.
401 E. Las Olas Blvd., Fort Lauderdale; 954.767.0222; tuscanprime.com
El Camino
Two things we know for a fact are 1) Taco Tuesdays make the world a better (and tastier) place, and 2) El Camino has one of the most authentic Mexican food experiences around. Translating directly to "the path," El Camino will pave the way to satisfying any and all perpetual margarita and enchilada cravings through its urban art-inspired eatery.
"I believe what makes El Camino what it is is the passion and love we put into what we do," says executive chef Victor Meneses. "In the El Camino kitchen we put love and passion into our food. We really welcome our guests—it's the culture. Every guest who comes to El Camino is coming to my house."
Meneses is from Mexico but trained in French culinary, so he takes his learned techniques and mixes them with Mexican ingredients. From quesadillas and enchiladas to tacos and burritos, any south-of-the-border staple can be found at El Camino. Don't forget the three superior add-ons to its $2 taco Tuesday deal: hand-crafted margaritas, craft beers and a curated selection of more than 400 various tequilas. With its energetic vibe and homestyle meals, there's no surprise El Camino has become a Fort Lauderdale front-runner in less than a year of existence.
817 E. Las Olas Blvd., Fort Lauderdale; 954.530.1188; elcaminoftlauderdale.com
BEST WATERFRONT
Boathouse at the Riverside
The luxury of being able to enjoy a delicious meal with a glorious waterfront view draws visitors and transplants to Fort Lauderdale from far and wide. At Boathouse at the Riverside Hotel, those seeking dockside dining can experience high-end American fare in a laidback environment with beautiful riverside views.
"We love what we do and strive to offer the best-tasting, [best] quality food while providing exceptional service, and you can't beat the view," says Jaime Figueroa, Riverside Hotel general manager.
Boathouse offers a variety of refreshing cocktails, wines and beers that pair amazingly with its brunch boards, which vary from avocado "toast" pizza to its eponymous Boathouse frittata (confit marble potatoes, heirloom cherry tomatoes, spinach, Emmental, tapenade, brioche toast). Stop by on Sundays from 11 a.m. to 3 p.m. for bottomless mimosas and bloody marys for $20.
620 SE Fourth St., Fort Lauderdale; 954.377.5494; boathouseriverside.com
---
Facebook Comments