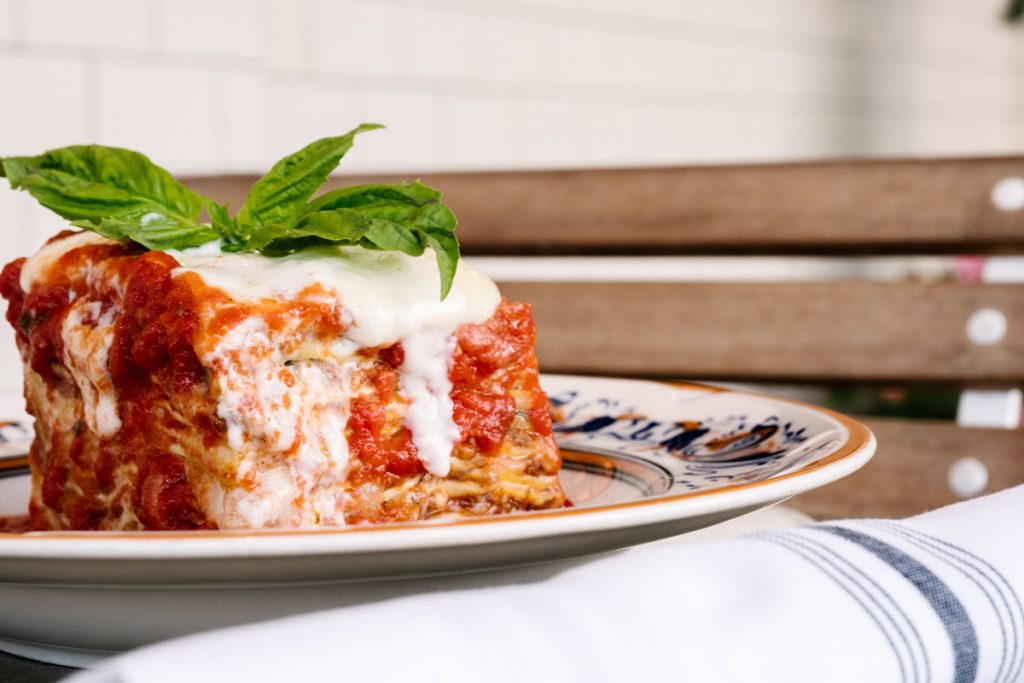 Kick up your lasagna game with Louie Bossie's traditional recipe rich with flavors of Bolognese and béchamel. This one crafted by Lisabet Summa, co-owner of Louie Bossi's, is ideal for a holiday meal and can also be assembled ahead of time to limit day-off stress.
To replicate Louie Bossi's lasagna, you'll need a deep casserole dish. And by that, Summa suggests one deeper than most. "Your trusty anchor hocking 9x12x2 won't give you the multi-layered stratified beauty you want for all your efforts," she says. In a pinch, you can use a deep aluminum disposable hotel pan from Publix.
The Marinara
2, 28 oz. cans whole D.O.P. San Marzano tomatoes
½ cup of good quality olive oil
14 cloves of peeled garlic, sliced impossibly thin
2 tsps. of salt
4 large leaves of fresh basil
Directions
Pour tomatoes in a large bowl and crush them up by hand. In a heavy bottom pan over medium heat, cook the slivered garlic in the oil without browning. Carefully add the crushed tomatoes and remaining juice (careful not to let the hot oil splash up and burn you). Add the salt and basil and simmer on low for 25 minutes.
The Béchamel
3 tablespoons of butter
¼ cup of all-purpose flour
½ tsp. of salt
3 cups of milk (no almond)
Dash of nutmeg
Dash of pepper
Optional: a few drops of Tabasco
Directions
In a four-quart pot, melt the butter. Once completely melted, add the flour all at once.
Whisk together and cook until golden, stirring over medium heat. Now you have a roux. Do not over brown. While whisking, add the milk until it has been scalded and whisk until all lumps have disappeared. Add seasonings. Reduce heat to just a tiny simmer and cook 5 minutes longer.
The Bolognese
For this recipe, any classical Italian meats will do. "We like to mix ground meats with a small dice of beef chuck along with ends of prosciutto hams that we grind," says Summa. "You can use some pancetta but please don't substitute bacon. The smoky flavor profile of bacon screams more 'campfire spaghetti sandwiches' than a classic Bolognese." Pork, veal, and beef may all be used.
1 cup minced onions
1 cup minced carrot
½ cup olive oil
Salt and pepper
3 fresh rosemary sprigs
6 fresh thyme sprigs
1 bay leaf
10 peeled garlic cloves, slivered
1 lb. ground pork
2lb. ground beef
½ lb. ground veal
4 cups red wine
8 oz. tomato paste
2, 28 oz cans whole San Marzano tomatoes with juice.

Directions
Sauté together olive oil, onions, carrot, and salt in a large pot. Set aside. In same pot brown minced diced meat and ground meat, discard any excess grease, and season with salt and pepper. Add garlic and herbs-tied together. When all is mixed well and cooked, add 4 cups red wine and bay leaf. Simmer until wine has reduced a lot (low simmer 20 minutes). Add tomato paste and cook together for 5 minutes. Add canned tomatoes (previously crushed together). Simmer all on low, covered, for 1 ½ hours. Correct seasoning with salt and pepper.
Assembling
First have all sauces ready, (previously made and chilled is fine).
Along with cheeses you will need:
4 oz. shredded mozzarella cheese
1 oz. grated Reggiano Parmigiana
8 basil leaves
2 full cups of Bolognese sauce for each layer
4 oz. San Marzano Sauce
Salt and pepper
Directions
First, brush casserole dish with olive oil in bottom start by spreading evenly a 2 oz. ladle of San Marzano before you begin your first of 5 layers. Pasta sheets may be the no-cook kind available at the grocery store. Lay them down on the bottom of dish evenly. Do not overlap, then spread 2 full cups of Bolognese, followed by spreading 4 oz of San Marzano sauce, then 1 cup shredded mozzarella cheese. Spread 1 oz. grated Reggiano Parmesan then sprinkle 8 basil leaves torn into pieces spread evenly over. Season the whole layer with salt & pepper. Repeat steps one to four for each layer adding no more than 2 oz. of béchamel, evenly on each layer. Do this until you have 5 layers. (You should have some sauces left over.) After the fifth layer, your dish should be full. Layer a piece of parchment paper on top and then cover in foil. Bake at 350 degrees until heated all the way through and bubbly at the edges. You should be able to take an internal temp in the center of 145-165 degrees. Let rest before cutting. Serve with extra sauces or slices of fresh mozzarella on top, which partially melt.  Garnish with fresh basil leaves.
Facebook Comments