The thing that changed everything about the way Yoni Martin runs his business began the day he pushed a coffee bean into the soil of a South American farm.
At the time, he was the new owner of a Fort Lauderdale café called The Grind Coffee Project. One of his suppliers offered him the chance to grow his own coffee plants, and so Martin hopped on a plane to Colombia.
Three years later, with the beans picked and dried, Martin imported them at a considerable expense. Finally, one glorious day, Martin brewed up a cup for a customer.
"Then I watched her dump five or six Splenda in," he recalls, imagining how the delicate flavors of the coffee would be smothered by the artificial sweetener's chemical taste. "It crushed me," he says.
Right from that moment, he decided to run The Grind entirely differently. No more would customers order whatever they wanted. Gone would be the regular coffeehouse kiosk with different kinds of milks and sugars. From now on, his baristas would make coffee products to The Grind's specifications, no exceptions.
It became a rule that Martin says allowed him to fully believe in the product he was serving, to know that his employees were handing out a coffee that's as good as it can be. But there was a downside.
"I think this is a horrible business decision for me, an absolute horrible business decision," he admits. "If this wasn't a passion for me, if I wasn't trying to give something back to this community, I could make, I don't know, 20 or 30 percent more."
After a Sunday morning bike ride, a group of friends stop into Grind, and one of them orders a cold brew with milk. "No," the barista tells him, she will not put milk in the cold brew. She explains that the already creamy cold brew would be watered down and ruined with the addition of dairy. He offers to add the milk himself if she'd just hand him the jug. "No," she says, if that's what he wants, he'll need to go elsewhere.
Maybe you are one of many consumers who believes that's downright ridiculous. That's because many of us have been taught the credence that "the customer is always right." But a growing number of Fort Lauderdale restaurants are rejecting that idea and instead deciding that such decisions ought to be left to the experts—to the baristas, chefs and bartenders who have been trained to understand how a beverage or dish should be constructed.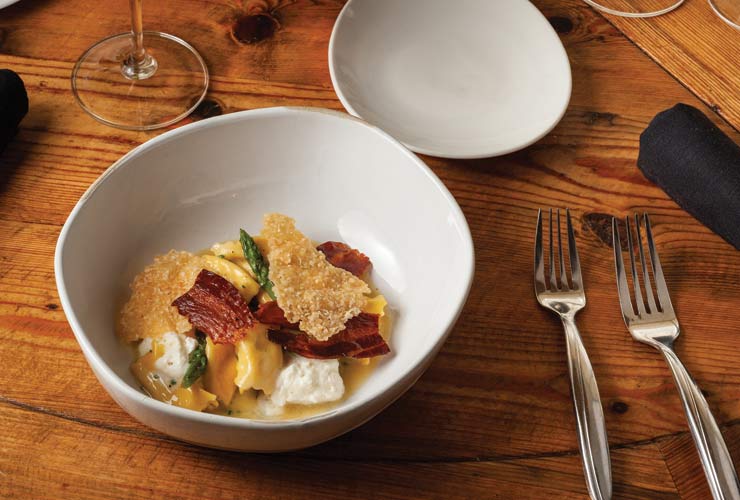 The local restaurant that has become known more than any other for refusing special requests is the O-B House in Himmarshee Village. Co-owner Rodney Ely has helped define his restaurant both for its anti-special requests policy and for the careful sourcing of ingredients that he turns into quite special dishes. The skillet pancake, for instance, comes out golden-crisp on the exterior and nearly as creamy as pudding in the center.
"In the old days, back in the '50s and '60s, people went out to dinner as a food experience and weren't as apt to ask the chef to do something different," Ely explains.
Back then, diners approached a meal believing they were in the hands of a trained kitchen staff and let the experts decide how a dish would be constructed. But then chains arrived with the promise that a diner could order a dish however they wanted. Soon, empowered customers began to "act like they're going to the Four Seasons" and make outrageous demands that just might ruin a dish. Workers at Olive Garden or Outback, Ely says, would just make it anyway.
When he and his partner opened O-B House eight years ago, they decided to reject that philosophy. They allow absolutely no substitutions, right down to refusing to not apply a raspberry mayo to a sandwich for someone allergic to raspberries (a story heard from a friend), or not allowing someone to sit down in an empty restaurant until the arrival of the other member of his party, a former U.S. senator (another true story).
The result of this strategy has meant an incongruous Yelp page for O-B House, full of both five-star raves and one-star write-ups that lambast the staff's supposed ambivalent refusals to fill special requests. Ely says he simply doesn't look at Yelp and instead relies on word of mouth. It has worked, too: He serves 300 people a day, more on the weekends, with waiting customers often filling the sidewalk out front. Nearly all leave happy, Ely says, with maybe one person every three months agitated enough to get up and leave.
"That's because we are good at convincing customers to change their preconceived notions," Ely says. "When they come in to an establishment like mine, they've already been trained by corporations. What we try to do is retrain them to a new way of thinking."
The idea of teaching customers a better way isn't something all restaurants are willing to take on. At Café Martorano, where you might just eat the best meatball of your life, owner Steve Martorano has maintained a no-substitutions policy since opening his restaurant 29 years ago. Actually, it goes back even further, all the way to when he was selling sandwiches out of his mom's basement in Philly.
The list of people Martorano has refused to accommodate is long, and it includes a few names you'd know. Years ago, Martorano was back in the kitchen cooking, as he is most nights, when a server approached him sheepishly. Frank Sinatra Jr. was in the house, and he had a special request: macaroni with red sauce, no garlic, salt or basil. This was, to emphasize the point, Frank Sinatra Jr., a celebrity and son of an Italian-American patron saint.
"I told him to get out," Martorano recalls.
These days—with the original restaurant on A1A and sister restaurants in Atlantic City and Las Vegas—Martorano says he gets texts late at night from his kitchen staff asking if they can accommodate a request for a substitution. He weighs them based on whether it'll affect the end product. If someone's allergic to shrimp, for instance, he might be willing to take them out, as long as it doesn't compromise the integrity of the dish. It comes down to this: Ask for something that Martorano knows won't taste good, and you've gone too far.
"Once you change what I do, I can't guarantee it's right," he explains. "People threaten you nowadays. 'You don't do this I'm going to write a bad review.' I say, 'OK, I'll sit down and help you write it.'"
That's the kind of attitude that used to torture Giovanni Rocchio. Back when he was a kid, he worked at his father's Italian restaurant in Lauderhill. Whenever a customer complained about a dish, Rocchio would cringe, knowing what was coming. Then he would watch his father storm out of the kitchen and tell the person to get out and never come back.
When Rocchio got his own place, though, he came around to his father's way of thinking. At first, he would throw anybody out who complained. Then, he softened, slightly.
"I realized that we can mess up," he says.
Maybe once out of a few thousand times of doing it, they could put too much salt in the pasta water, and so maybe, he realized, the complaining customer was right.
Now, as chef at the acclaimed Valentino Cucina Italiana in Rio Vista, Rocchio will make a new dish for someone who doesn't like something. But as far as substitutions, "It depends on my mood," he says with a laugh.
In the back room of his restaurant's kitchen a couple of hours before dinner service one afternoon, he added eggs, cheese and pepper to a hot blender, which both mixes and cooks the items within. On the counter nearby, he began gently kneading dough. Soon, the dough and the filling would come together to become an agnolotti pasta with a carbonara filling, to be plated later with crispy pancetta and Parmesan crisps. It's a dish so delicate and downright delicious that it helped Valentino gain a rare four-star rating from Sun-Sentinel restaurant reviewer Michael Mayo in January. Gushing, Mayo wrote: "I cannot fathom how I will have a better bite of pasta, or anything, all year."
Rejecting special requests, Rocchio says, is simply about asking people to respect his art. "I put a lot of thought into each dish, so each component is essential to that dish," he says, pouring the filling into a metal bowl floating in an ice bath. "You look at this agnolotti. It has four components: eggs, pecorino, pepper and pancetta. You take out one of them …." he pauses for a minute to consider the consequences. "I like music, and it's like listening to Led Zeppelin without Jimmy Page. It's like hearing the Rolling Stones without Mick Jagger."
Beyond substitutions, though, the thing that really bothers Rocchio is the customer who orders something that's not on the menu.
"When someone wants to make up their own dish, you're telling me there's nothing on my menu you find appealing?" he asks, getting a bit fired up, even as he continues to smile. "It's like me coming to your house, and you offer me Champagne and caviar, and I ask for Pringles."
It's clear that to Rocchio and other chefs in town, it's something personal for them. A request for a substitution isn't just about tailoring a dish to the way you might like it—it's a personal affront to their training, experience and reputation.
Philip Darmon owns Hardy Park Bistro with his wife, Jessica. It's a tiny restaurant tucked behind a CrossFit gym, and it puts out, in the humble opinion of this writer, some of the finest plates of food in South Florida. Darmon explains that he's not opposed to substitutions, but sometimes it's simply about the way a customer handles the request.
"People threaten you nowadays. 'You don't do this I'm going to write a bad review.' I say, 'OK, I'll sit down and help you write it.'"
– Steve Martorano
Recently, Darmon says, he had a customer tell the server: "I'm a vegan. You're going to make me something vegan, or I'm leaving." She was part of a group of eight, and having them walk out would be a hit to a small restaurant.
"I often make special dishes for vegetarians and vegans. But she was threatening. She was rude. I wanted to say 'no,' but what am I going to do? I have a business to run."
Not long after that, he had a woman hand a card to the server. "Dear chef," it began, before explaining the 15 items that she would become ill from eating. The card continued that she'd understand if he was simply too busy to accommodate her and that she appreciated his time. In the middle of dinner service—with a kitchen staff of two, sometimes three on busy nights—Darmon walked out to tell her how much he appreciated the card and the polite way she approached it. And then he made her an off-the-menu dish that she could eat.
The special requests he rejects, and the customers who walk out because of it, those are the moments Darmon says he agonizes over, tossing and turning later that night.
"We put a lot of thought into the dishes on the menu," he says. "When someone comes in and wants to write their own menu, it hurts a little bit."
Coincidentally, after speaking with Darmon, this writer ended up at his restaurant for lunch, although he didn't notice. One of two dining companions wanted the HPB Burger topped with cheddar and a tomato chutney so good that Darmon could sell it by the jar. But she wanted it with lettuce instead of a bun. And to add pickles.
Quite literally, I held my breath waiting for the response.
"Not a problem," the server said.
The dish came just as ordered, the burger wrapped neatly in iceberg leaves. On the side sat a pickle split lengthwise. This day, in the war between the desires of customers and the artistic vision of chefs, it was a victory for the special requests.
---
Facebook Comments