Forget your go-to spot for fine dining because Eddie V's, nestled on the first floor of 100 Las Olas, Fort Lauderdale's tallest building, might become your new favorite. Inside, expect immaculate service from servers donning white jackets that play off the ultra-glam dining room, accented by a cascading chandelier. For a more laid-back evening, opt for the outdoor terrace overlooking Las Olas Boulevard and order the Hope Diamond, a deep-magenta-colored cocktail made with Grey Goose vodka, grapefruit liqueur, and butterfly pea flower tea, accented with a diamond-shaped deep-blue ice cube.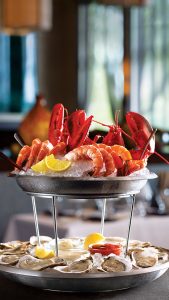 While the decor speaks wonders, so does the cuisine, which is why you might find yourself having to book dinner reservations a few weeks in advance. Chef Jose Gonzalez helms the kitchen, dishing out a decadent menu underscored by premium hand-cut steaks and fresh seafood. "Culinary influences include a mix of classic American, modern Asian, and Southern cuisines," shares general manager Alev Ersoy. "Our dishes are artistically prepared using best-in-class ingredients and seafood flown in daily from around the world." 
You'll want to pace yourself to enjoy a multi-course feast ranging from a shellfish tower to an impressive 22-ounce bone-in ribeye to delicate Chilean sea bass, steamed Hong Kong-style and dressed in light soy broth. Indulgent sides (think: butter-poached lobster mashed potatoes and crab fried rice with mushrooms) and desserts like bananas foster butter cake flambéed tableside and served with pecan ice cream round out this visually intensive, buzzy hotspot.
Facebook Comments