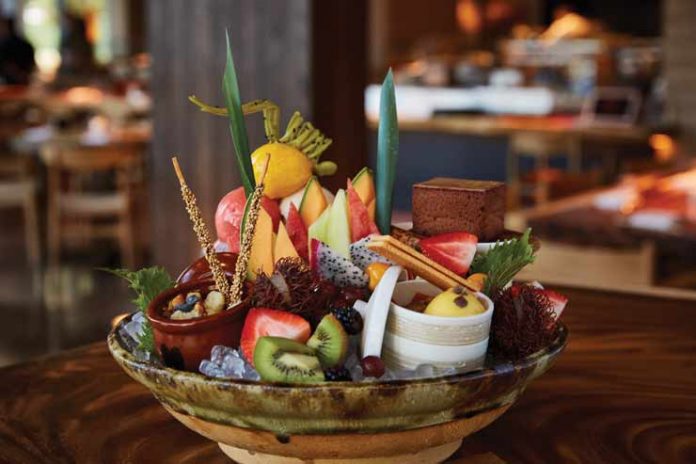 DESSERT PLATTER AT ETARU
Whether dining oceanside in Hallandale Beach or opting for the metropolitan feel inside Fort Lauderdale's Icon Las Olas, ETARU is a can't-miss culinary gem that serves contemporary Japanese cuisine. While the beautifully plated black kampachi sashimi is a must, our eyes are on the Dessert Platter. Almost too pretty to eat, the presentation includes a rainbow assortment of ETARU's most decadent desserts. Split bites of guava mousse with grilled papaya, mango biscuit and passion fruit sorbet; smoked coconut with passion fruit parfait and raspberry; peanut, vanilla and chocolate sundae with sesame poki sticks; dark chocolate and green tea pudding, crunchy jivara and pear ice cream; and assorted fruits, mochi and ice creams; $14/person, etarurestaurant.us.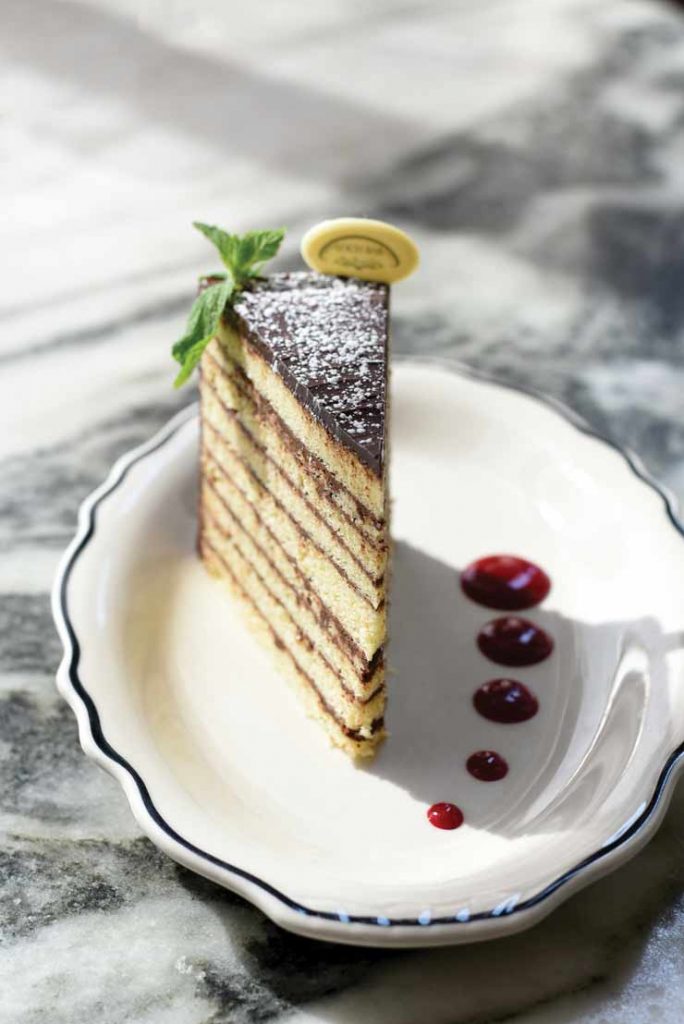 SMITH ISLAND CAKE AT LOCH BAR
Not-your-average piece of cake, this dessert uses 17 layers of ganache and yellow cake to create a shareable slice for an ideal way to end a meal at Mizner Park's Loch Bar. The official dessert of the state of Maryland pays homage to the restaurant's original digs at the Four Seasons Hotel in Baltimore. Owners Alex Smith and Eric Smith first brought their Ouzo Bay concept to Boca Raton more than a year ago. With its success, they decided to bring sister restaurant Loch Bar south in fall. The oyster bar and whiskey tavern sets the scene for dinner in a central location with live music. After sucking down fare from the sea, satisfy a sweet tooth by ordering the Smith Island Cake, Loch Bar's signature dessert; $8, lochbar.com/boca-raton/.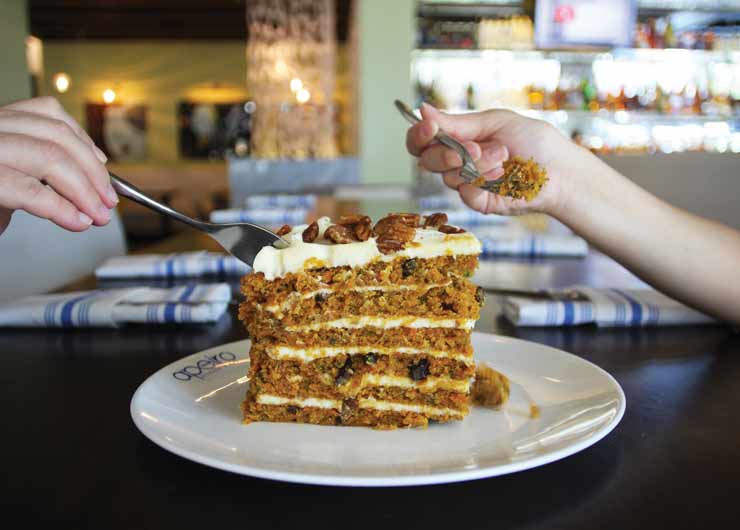 TOWERING CARROT CAKE AT APEIRO KITCHEN & BAR
Meant for two mouths or more, the Towering Carrot Cake at Apeiro in Delray Marketplace complements a Mediterranean meal. It's made with cream cheese frosting, cinnamon, pecans and toasted coconut. But before splitting dessert, share small plates of lamb sliders or spicy mahi tacos and flatbreads topped with prosciutto sausage or forest mushroom. The menu is inspired by Italy to Greece to Portugal to Morocco, and post-dinner dishes are kept simple and fresh. After something sweet, try to knock down all 10 pins at the neighboring CineBowl and Grille; $15, delray.apeirorestaurants.com.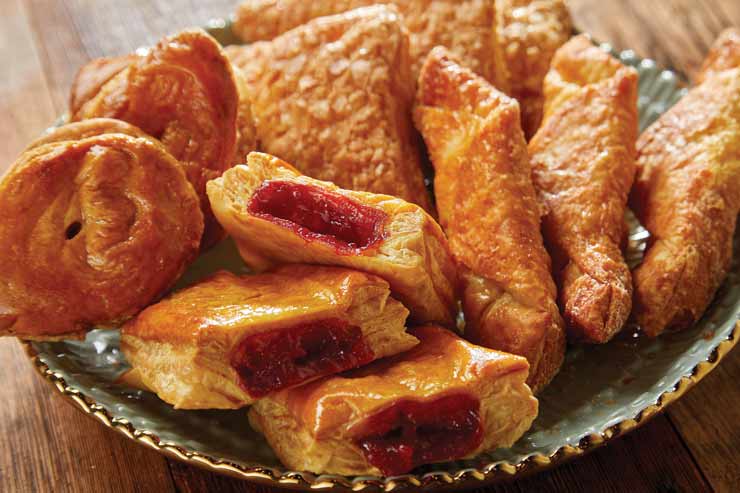 CUBAN PASTRIES, EMPANADAS AND CROQUETAS AT COLADA
Few things are more satisfying than pairing a warm guava pastelito, flaky empanada or savory croqueta with a delicious cup of Cuban coffee. If the thought makes your mouth water, we have good news: Colada in Fort Lauderdale will continue selling its assorted fresh Cuban pastry boxes throughout 2019. When you fill them up with your pastries of choice, a box or two goes a long way. These treats are perfect to share with your sweetheart after indulging in a delicious, traditional Cuban meal; $15, coladahouse.com.
CHURROS AT BURLOCK COAST
Enjoy not only the sea breeze but a plethora of sweets while dining at this Ritz-Carlton Fort Lauderdale staple. Executive chef Paula DaSilva, runner-up on the fifth season of FOX's "Hell's Kitchen," leads the culinary team, but Carlos Salazar takes credit for all things sugary as pastry chef. While the Avalanche Sunday and Florida Key Lime Pie are strong contenders for post-dinner delights, we suggest an order of the churros, coated in cinnamon sugar and ready for dunking in cajeta or chocolate fudge sauce, for a date night finale. Pair them with a glass of sparkling wine, or an espresso brewed using Panther Coffee beans; $12, ritzcarlton.com/en/hotels/florida/fort-lauderdale.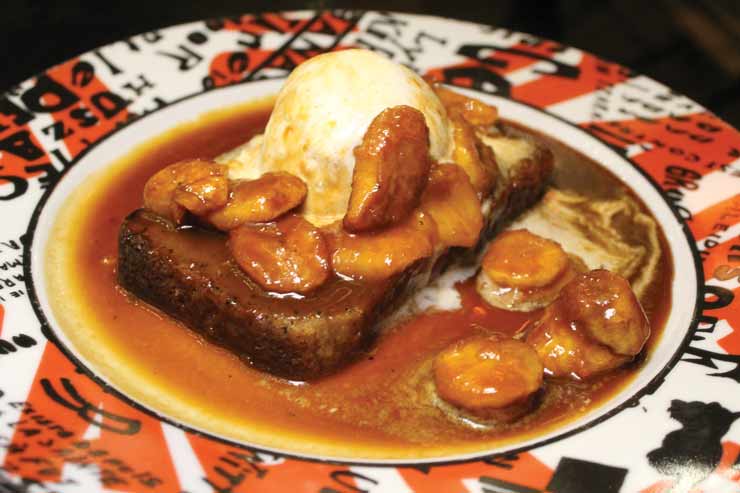 WARM BANANA BREAD AT DADA
The Delray Beach staple restaurant's most popular dessert has been on the menu for about 15 years. The banana bread is made daily and doused with homemade caramel sauce, local vanilla gelato and ripe caramelized bananas. Devour it while dining alfresco at the historic home built in 1924. And while most new restaurants draw all the crowds, Dada continues to be one of the busiest dining destinations in town, so be sure to make a reservation; $9, sub-culture.org/dada/.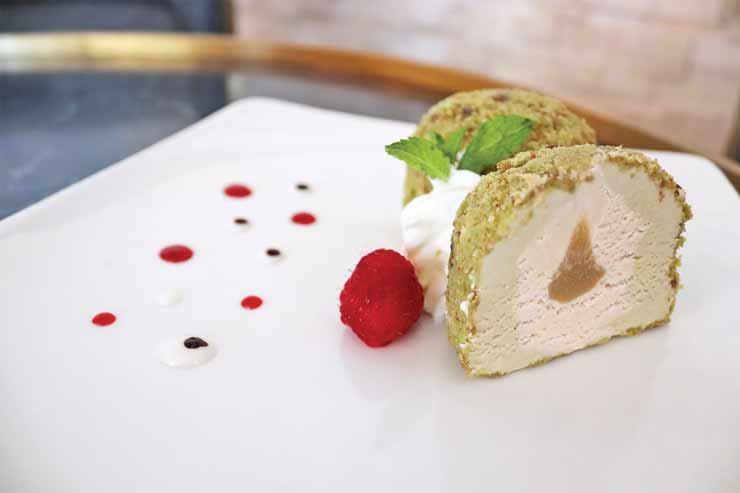 PISTACHIO TARTUFO AT OLIVIA RESTAURANT & BAR
Here's a dish you and your sweetie will rave about the whole way home, or if you're smart—the whole way up to the hotel room. Olivia Restaurant & Bar opened last year inside Hollywood's CIRC Hotel. Book a staycation for the special occasion and make dinner reservations downstairs to indulge in innovative Italian dishes (we may be talking desserts, but the Gnocchi Quattro Formaggi is out of this world). Cleanse your palate with the Pistachio Tartufo, the restaurant's signature dessert that blends pistachios, vanilla bean ice cream, cherries and chocolate chips. But the night doesn't end just yet—promote digestion with drinks at The Muse, a rooftop bar with sweeping views of Hollywood's skyline and beyond; $9.90, oliviarestaurantandbar.com.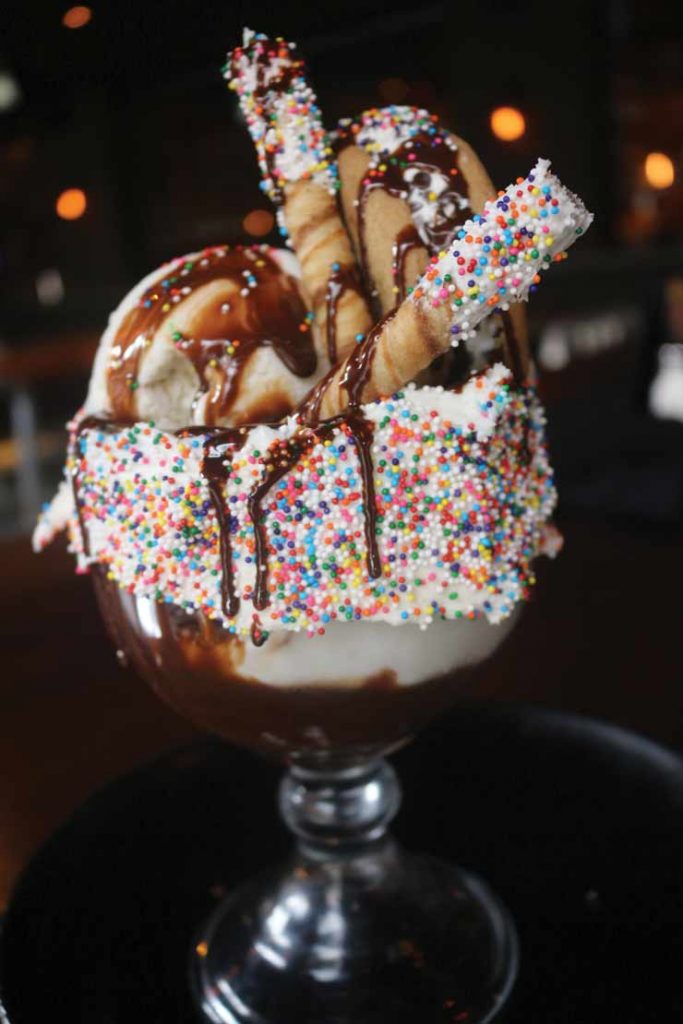 ICE CREAM COOKIE SUPER SUNDAE AT TAP 42
Decadence takes on a new meaning with Tap 42's Ice Cream Cookie Super Sundae. Sure you've had one of the restaurant's burgers piled high with the works, but now it's time to indulge in different kinds of toppings. The over-the-top sundae is best enjoyed with two (or more) spoons digging into a goblet filled with vanilla bean ice cream, drizzled with chocolate and vanilla icing and hot fudge. A chocolate chip ice cream sandwich and a sprinkle-coated rim round out the detailed touches, making this dessert worth saving room for; $10, tap42.com.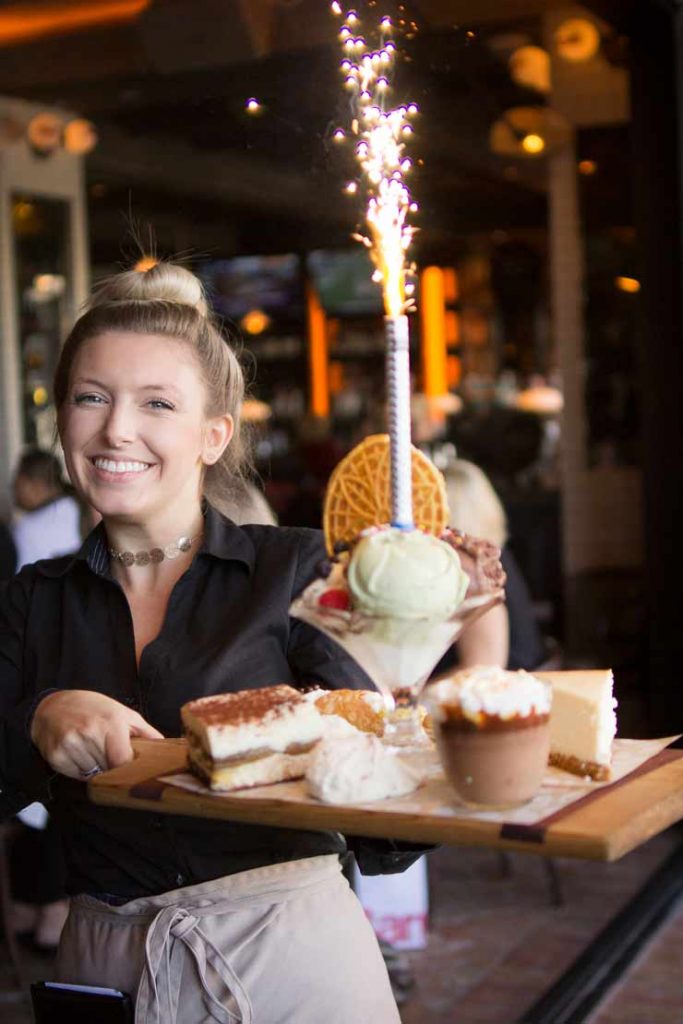 THE GRANDE DOLCI AT LOUIE BOSSI'S
Louis Bossi's in Fort Lauderdale and Boca Raton is notorious for its outstanding Italian food and weekend brunch. Its decadent desserts, however, such as gelato, cannoli and tiramisu, deserve the spotlight this time around. If you can't seem to decide on a menu item, look no further than the ultimate dessert platter: The Grande Dolci. This delectable display is an assortment of all of the desserts at Louie Bossi's for you and your Valentine to share; $35, louiebossi.com.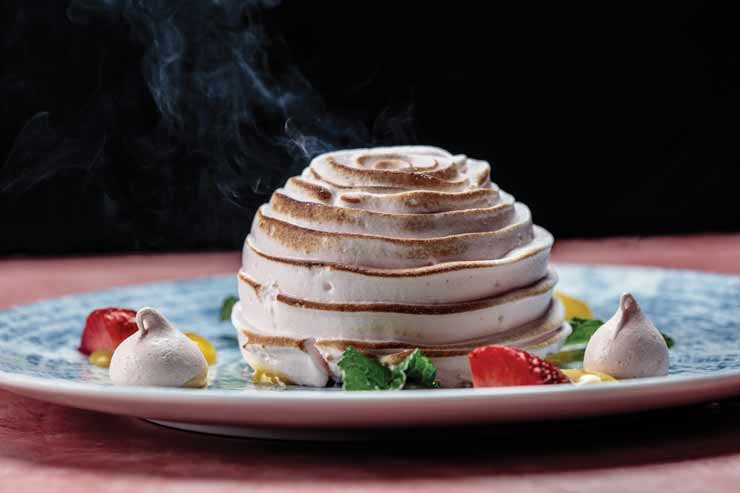 KEY LIME BAKED ALASKA AT SHOOTERS
This smoked dessert is too delicious to be devoured alone. Given the combination of warm and cool layers, your taste buds will leave on vacation, as will your eyes as they take in a bounty of scenic waterside views. Make date night a romantic cruise along the Intracoastal that docks at Shooters' outside patio for dinner and drinks—and dessert. The Baked Key Lime Alaska uses a Key lime curd set atop ladyfingers topped with a meringue mixing in a touch of beet juice that gives it a light rose hue. Poured on top and absorbed by the ladyfingers is a drizzle of coconut daiquiri. And finally, teardrops of macaroons complete the dessert; $12, shooterswaterfront.com.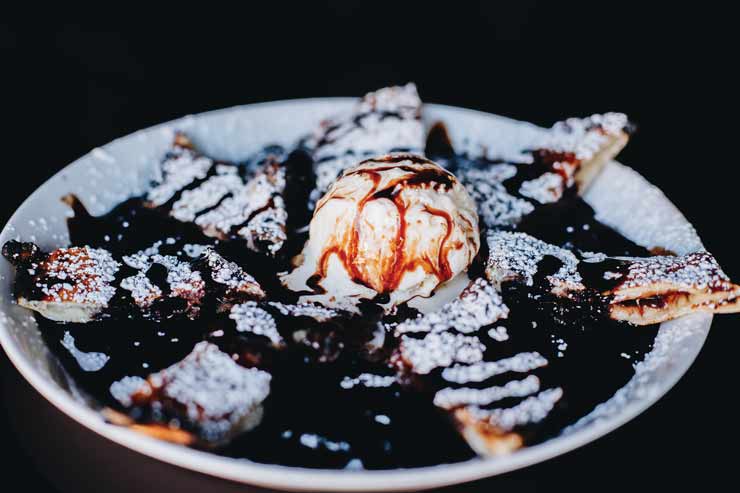 NUTELLA ESCALINATA AT THE LOCALE
The recently opened The Locale in Boca Raton offers new American cuisine with a delicious Latin twist—a theme that carries into its desserts. The eatery has a plethora of ways to end your night on a sweet note, from coconut tres leches and Key lime pie, to crème brûlée and doughnut bites. But the real winner on the menu is the Nutella Escalinata. Made with Nutella, mascarpone, roasted almond and vanilla ice cream, we highly recommend splitting this wood-fired oven dessert with your favorite person; $14, localeboca.com.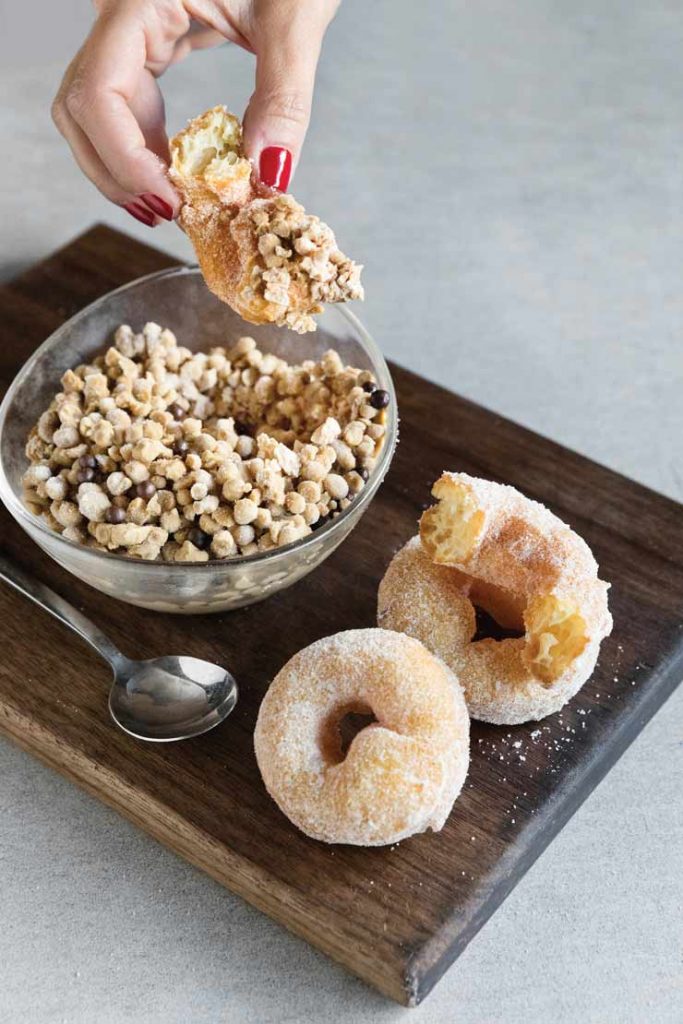 COFFEE AND DOUGHNUTS AT TANZY
Just when we thought Tanzy's artisanal menu and dreamy interior couldn't make for a better experience, it got that much tastier with the recent launch of its dessert cart. We suggest ending an evening with the Coffee and Doughnuts. The newest addition from pastry chef James Rosselle, the Italian-inspired dish is made from a dough called "pâte à choux." The puffed pastries are fired and then dusted in a vanilla scented sugar, so light and crispy you can afford to eat more than one. They are paired with a parfait like mocha mousse, coffee caramel and coffee ice cream pearls. Rosselle says it best: "The two elements—hot and crispy plus cold and creamy—are a perfect match"; $12, tanzyrestaurant.com.
Facebook Comments