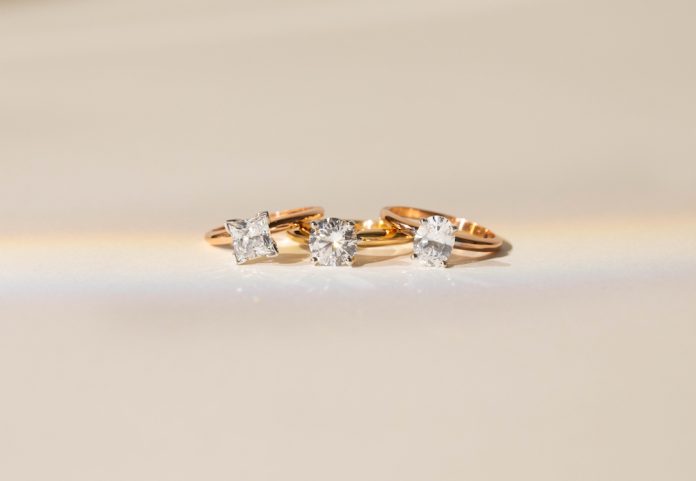 What girl hasn't dreamt about marrying her Prince Charming or the one-of-a-kind wedding ring she will be wearing on that momentous day? Still, as much as a bride-to-be covets a stunning showstopper on her fourth finger, she isn't likely to let her betrothed break the bank to buy it.
Once you've established what your ring budget will be, follow these industry tips for getting the bling you want—for less.
Cut out the uncertainty. The way a diamond is cut and the number of facets it has can determine how much it sparkles. A good cut will radiate a stone's features or hide its flaws. The cut can make a diamond appear bigger or smaller than other diamonds with identical carat weight. When compared to a round brilliant diamond, the most expensive diamond cut⎯fancy shapes like oval, marquis, heart, and pear⎯can save you up to 25 percent because less diamond waste occurs during the cutting process.
Shape matters. From Asscher to cushion cut, the silhouette of a diamond will have a huge impact on the look of a ring and its price. Diamonds come in myriad shapes, but their popularity can easily affect their price. Round and princess shapes cost more because they're in high demand. On the flipside, shapes like emerald and marquise tend to be more affordable, plus their shapes give them the illusion they have more mass and help to hide their inclusions (small imperfections within a diamond).
Metal makes a difference. There are a couple of tricks to picking out the band metal once you have determined the diamond and cut. Yellow and rose gold help keep a diamond with a lower-color grade look whiter and brighter because of contrast. White gold looks precisely like platinum but is more affordable. While 24-karat gold is often the first choice, it is a super soft metal that's easily susceptible to damage. If you use your hands a lot, consider either 14-karat or 18-karat gold wedding bands and bridal sets that are more resilient and competitively priced.
Lab-grown diamonds earn an "A" for affordability. As the name implies, these are real diamonds grown in a lab. Although they share the same physical, chemical, and optical properties as natural diamonds, lab-grown are more durable and significantly less expensive. For example, Clean Origin, the world's largest retail dealer of lab-grown diamonds, sells its diamonds for 20 to 40 percent less than traditional ones. Diamond wedding rings range between $565 for a Theresa ring in 14-karat white, yellow, or rose gold and $6,830 for a 4.5mm classic emerald eternity band in platinum.
To find your perfect lab-created diamond or a dream ring you'll forever cherish, visit Clean Origin's website to arrange a virtual appointment with a diamond expert.
Facebook Comments