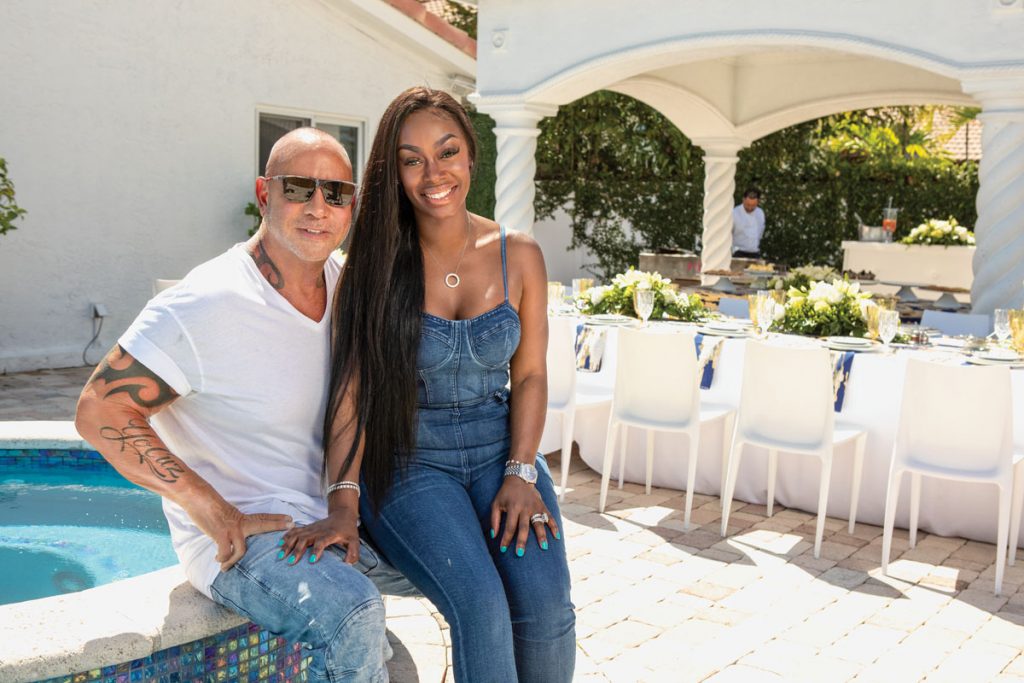 When two friends arrived for their carry-out meal at Café Martorano in Fort Lauderdale in 2005, owner Steve Martorano saw something special in one of them. He asked the women if they would take a seat, sent over a bottle of Cristal Champagne, and took care of their bill.
"Steve told me I was beautiful, then gave me a CD of love songs and his phone number," Marsha Martorano recalls of their initial meeting. "I didn't call him, and when we went back another night for dinner, I tried to avoid him because of it. But we soon started dating, and a week later we were inseparable."
After opening Café Martorano in 1990, Steve worked around the clock to develop the eatery into the area's go-to destination for Italian food. His diligence paid off when the hot spot, which also doubles as a music venue, began drawing celebrity patrons such as Mario Lopez, Dan Marino, Tony Bennett, Jamie Foxx, and French Montana. Though Steve was enjoying his success, he was still looking for someone with whom he could share his life. "Marsha was different," says Steve. "I discovered quickly that she was a fun-loving woman, true to herself, and totally authentic."
Born in Kingston, Jamaica, Marsha moved to South Florida at age 6 and later became a financial adviser and makeup artist. Sassy and single, she was amazed at Steve's kindness and generosity. "When I mentioned a love of balloons and cupcakes, he bought me 100 of each," she says. "Everything about Steve was over-the-top. Our relationship was like a fairy tale."
In 2007, Steve expanded his restaurant to Las Vegas (he still owns Martorano's in the Paris Las Vegas Hotel & Casino) and Marsha accompanied him. She learned the business and began helping with menu development and printing, day-to-day operations, and executive scheduling. The following year, Steve left Las Vegas to undergo open-heart surgery, and Marsha stayed behind for six months to run the show. Over the next decade, their professional and personal relationships flourished, and they married in 2017. "I am still behind-the-scenes in our businesses, doing marketing, advertising, and product development, and I love it," she says.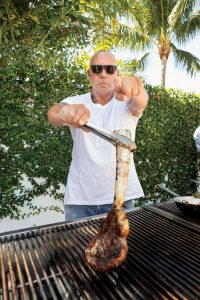 The workhorse couple has expanded their portfolio to include a lifestyle brand featuring Café Martorano's pasta sauces; Steve's books, It Ain't Sauce, It's Gravy: Macaroni, Homestyle Cheesesteaks, the Best Meatballs in the World, and How Food Saved My Life and Yo Cuz! My Life, My Food, My Way; and a collection of Yo Cuz! apparel and jewelry. Later this year, they plan to launch Lilly Cakes, a line of Marsha's desserts named for Steve's mother and her grandmother, and Martorano's Prime, a steak house at Rivers Casino Pittsburgh. "You don't go to an Italian restaurant for steak, so this is a new concept," says Steve.
They are also finalizing a collaboration to open five food concepts in the Los Angeles area over the next six years: Martorano restaurants/nightclubs, Sicilian pizzerias, Italian casual restaurants, Lilly Cakes outlets, and Martorano's Prime. Given all of their success, the couple is also committed to giving back. They launched The Steve and Marsha Martorano Never Give Up Foundation last year to help students and professionals pursue their education or personal development while working to support themselves or their families.
The nonprofit's focus speaks to Steve's own experience using his entrepreneurial talent and work ethic to pull himself out of the rough-and-tumble South Philadelphia neighborhood he grew up in. "I knew I didn't want to end up as a gangster on the streets like some of my family members," he says. "But my mother had a heart of gold. I loved her cooking and wanted to do something with food. So I started delivering hoagies out of my Philly apartment."
Before he knew it, the business had outgrown its small space. He moved into his mother's basement, where he was surrounded with inspiration from her weekly menu: Mondays were for homemade soup; Tuesdays, macaroni; Wednesdays, chicken cutlets; Thursdays, gravy and macaroni; Fridays, linguini with clams; Saturdays, cheesesteaks and pizza; Sundays, meatballs and gravy.
"I expanded my menu with some of mom's entrees and did so well for five years that I moved to a more affluent part of Philadelphia," Steve says. "But I was naive about the world economy, and I lost money."
Following a friend's advice and much contemplation, he bought a cozy Italian restaurant in Fort Lauderdale and a house in western Broward County. "I moved to Florida 30 years ago with $40 and a credit card to my name," he recalls.
His gamble paid off, but the hardworking Steve has never forgotten his roots. When the couple opened their waterfront home for an Italian barbecue, their main goal was to thank loyal customers and those who've helped them succeed. "We wanted to give back to our friends and family for supporting us," says Marsha. "They all know each other, and we were anxious to have them come feast and have fun at our home."
When entertaining, Steve does most of the cooking—which he continues after guests arrive—and Marsha bakes her delicious desserts, designs the table, and coordinates the rentals. "Marsha is the smartest woman I know," says Steve. "She can create something out of nothing. She figures out everything."
Adds her mother, Beverley Daley: "At age 4, Marsha read the Sunday newspaper, and ever since, she has thrown herself into areas she doesn't know and learns new things."
Marsha gleaned most of her entertaining prowess from her mother, who hosted all of her birthday parties, making the cakes and cooking while her father helped with food and performed DJ duties. "I remember how much my mom liked to entertain," says Marsha, looking chic in a denim jumpsuit and glittery-beige Christian Louboutin heels. "Her attitude and sense of fun stayed with me and influences everything I do."
On the back patio overlooking a sparkling canal, guests were greeted with a Voga Vodka martini made with strawberry-lemonade water ice, a nostalgic nod to Steve, who made the classic Philly summer treat—also known as Italian ice—when he started out. "I have known Steve for more than 30 years," says guest John MaGee, business manager at Southern Wine & Spirits. "Not only are his drinks great, he cooks the best food in the world."
As guests mingled around the pool eagerly awaiting the meal, they met the couple's four adorable dogs, each appearing primed at the prospect of sneaking a few scraps: Sammi, a Pomeranian; Princess, a Maltese; Pio, a Maltipoo; and Blu, a Pomeranian mix.   
Dressed in white, blue, and gold, the long dining table was a tribute to the waterfront setting and Fort Lauderdale's outdoor lifestyle. Flowers of Fort Lauderdale arranged five centerpieces of white hydrangeas, lilies, and roses that were placed atop an oversized cobalt-blue Dali linen runner streamed with gold and white. Matching cloth napkins, gold-rim dinnerware, Cambridge crystal wine glasses, Amber Melodia water goblets, brushed-gold Parker flatware, and Jackie Gold dessert plates completed the setting.
Heather Rouffe, managing partner of Atlas Party Rental, worked with Marsha on the event. "Marsha wasn't afraid to go bold," she says. "Together, we [designed] a gorgeous tablescape inspired by the water. We loved the rich hues of the Dali fabric, so our sewing department used French seams to make her custom pieces reversible."
The menu, which Steve wrote with Walter Pytel, his executive chef at Café Martorano, offered guests a healthy, seasonal meal featuring local farm-to-table ingredients. "We wanted to emphasize what makes us special by showcasing the freshest ingredients, our new and best meats, eggplant stacks, and the finest olive oils," says Pytel.
They started with summer salads, followed by the eggplant stacks with tomato, mozzarella, arugula, and shaved Parmesan; cavatelli arrabbiata (petite pasta in a spicy tomato sauce); sizzling tomahawk and New York strip steaks with roasted hot and sweet peppers; and rosemary chicken and lamb chops. Wines included Nicolas Feuillatte brut, Scalabrone rosé, Antinori Pèppoli Chianti Classico, and Ca' Montini Pinot Grigio.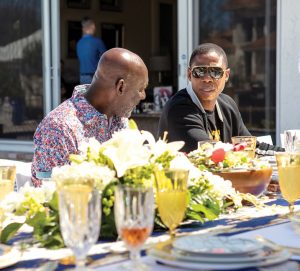 The dessert table was another splendid vignette, envisioned as an extension of the main table to showcase Marsha's lemon cupcakes, strawberry shortcake, red velvet and Funfetti cakes, and an assortment of chocolate chip and butter cookies. "Baking makes me happy, and I love using the freshest, highest-quality ingredients," Marsha says.
"The presentation of the Lilly Cakes is wonderful, and they are so delicious," says guest Kevin Johnson, a retired finance executive with The Coca-Cola Company. "Marsha puts her heart and soul into baking like she does everything else."
Marsha's cousin Corlette Anderson, owner of Corlette's Eden Salon in Pembroke Pines, praised the way that Marsha and Steve bring out the best in one another. "They are both warm, humble, and spiritual, always encouraging the other," she says.
As guests left the party joking that they probably wouldn't eat again for days, they continued to compliment the couple and their dynamic relationship. "Marsha and Steve are complete opposites," says Marsha's father, Kennister Daley, a financial expert with Allstate Insurance. "Steve is mild-mannered, while Marsha is a firecracker who is consumed with her passions. He calms her down, and she brings him out of his concentration mode. They are wonderful hosts who make a great team." «
Facebook Comments