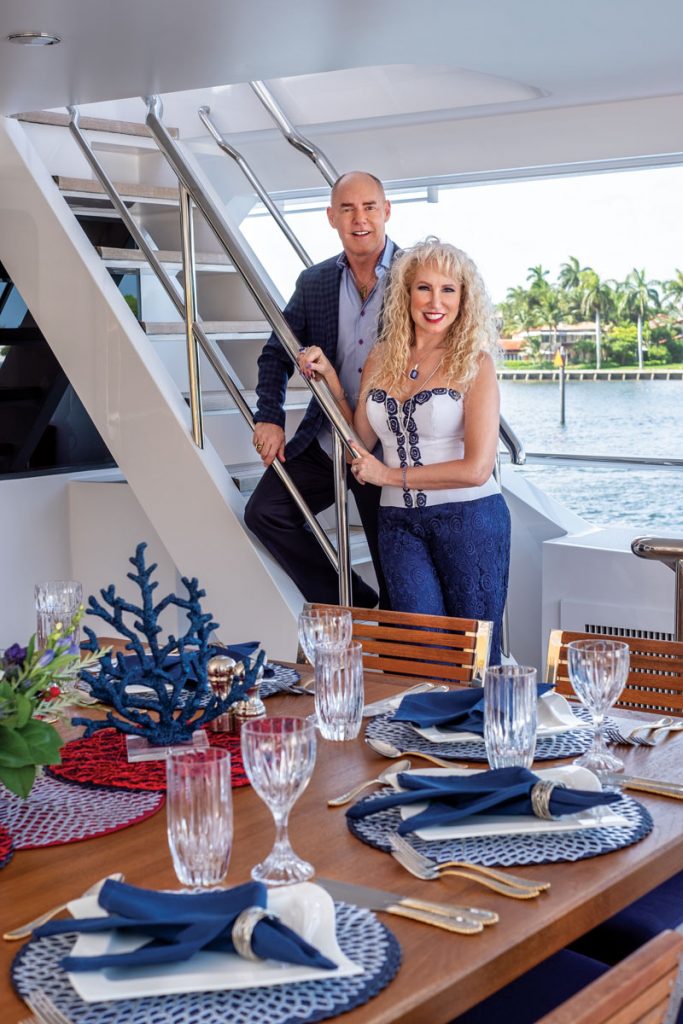 Don't call it a party boat—although the moniker wouldn't be too far off the mark. Tanzanite is the 145-foot, four-deck, five-cabin luxury yacht belonging to Fort Lauderdale residents Andrew and Tanya Heller. Given that this dynamic couple is known to play host to two or more lavish parties a month—sometimes onboard, sometimes at their waterfront, Thomas Benedict–designed, Mediterranean-style estate, either indoors or out—it is fitting that their origin story began at a party with a purpose.
In 2010, after meeting at a Washington, D.C. charity ball that Tanya managed to benefit groups fighting human trafficking, the pair decided to go out on a date. "We had interests in common like charity work and entertaining," says Tanya, who was a realtor in Washington, D.C. at the time.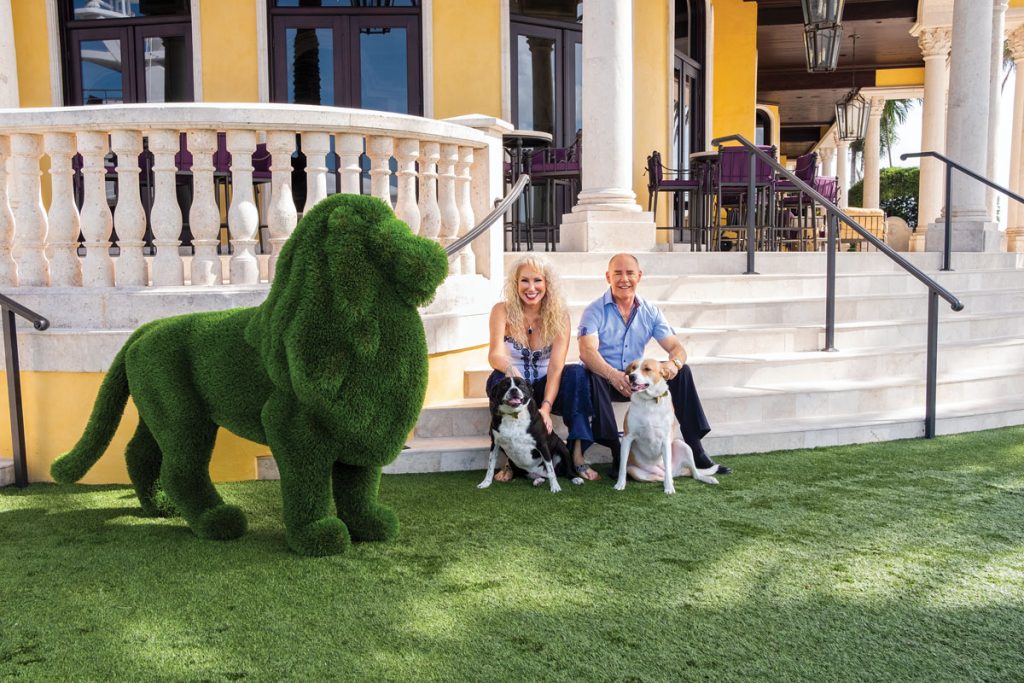 Andrew recalls that Tanya owned 14 animals when they met: an array of cats, dogs, and birds. While Andrew found it charming, he wasn't without his reservations. "I am allergic to cats and dogs," he says. "As we dated, and I fell in love with her, I began taking allergy shots so I could be around them."
The founder of Heller Capital Corporation—which provides financing to start-up companies and makes acquisitions in manufacturing and other areas—Andrew was living mostly in the D.C. area in 2010. But he also owned a second home in Fort Lauderdale, and in 2013, he brought Tanya south with him. "I absolutely loved Fort Lauderdale from the start," she says. "It was so welcoming with really nice people; a total melting pot."
The following year, the couple made Fort Lauderdale their full-time residence. They were married three years later. Together, they opened an animal-rescue facility in their guesthouse. "It all started when my parents had kittens in our home," Tanya confesses. In May 2019, they launched Purrr Inc., a feral cat and kitten rescue that spays, neuters, tames, and socializes the animals before finding them permanent homes.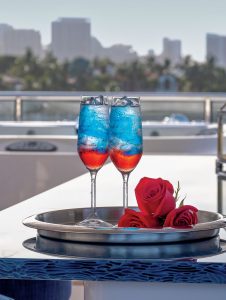 As the trustee of the Andrew M. Heller Family Foundation—focusing primarily on education, the arts, and animal welfare—Andrew is active with several local charities. He is a member of the board of governors of the Nova Southeastern University's Art Museum Fort Lauderdale and chairman of its development committee. He serves on the board of directors of the Jack & Jill Children's Center in Fort Lauderdale, whose mission is to help break the cycle of poverty for children from high-need families.
In addition to Andrew and Tanya's passion for philanthropy, the epic events they are known for hosting give their romantic partnership a chance to create real moonlight magic—a vehicle they use to introduce their eclectic group of friends to one another.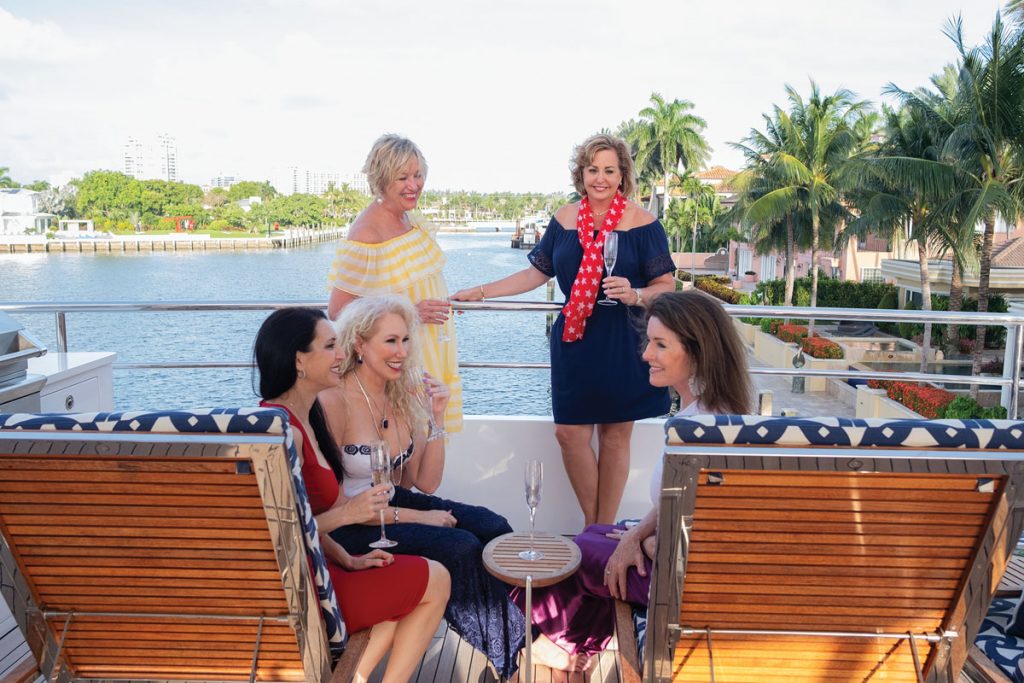 For Andrew's birthday last January, the couple entertained 250 people at their estate. Over the years, they have hosted elaborately costumed extravaganzas and themed events for as many as 500 people. Taking an equal interest in party preparation, Tanya designs the table settings, organizes the themes and costumes, and makes sure guests' needs are accommodated.  "I want the guests to enjoy the party," she says. "I know who has an allergy or a birthday." Andrew is the communicator and detail person, planning the socializing, invitations, and guest list.
In July, the couple invited a group of friends for a "patriotic chic" dinner party onboard Tanzanite, named for the rare bluish-purple gem found in North Tanzania's hills of Merelani. The couple's floating fantasy was built in 2004 by Westship. Andrew bought the boat in 2017 and had it refitted by 2019. "We took Tanzanite from a traditional Art Deco/ornate interior to look more modern and transitional," he says.
As guests were escorted into Tanzanite's entry foyer—with its capiz shell floors, dark millwork, soft gold accents, and white onyx countertops—they gathered around the under-lit bar for their choice of the party's two signature cocktails: a Patriotic Punch made of pineapple vodka, raspberry liqueur, and Blue Curacao; or the Tanzanite Smooch with blueberry vodka, acai berries, strawberry, and lemon.
The yacht's top-floor sundeck offers guests a space to relax, with its cool blue and white cushioned seating atop teak decking, and a whirlpool bath used mainly for the couple's cruises to the Bahamas and other islands. The space blends easy living and sophistication with its blue glass-topped bar and tall bar stools—providing ample schmoozing space, plus a large TV to show feature-length films.
While munching on passed appetizers of watermelon cups with cranberry mascarpone and grilled pineapple and lobster kabobs, guests were encouraged to engage with each other. "We mix people, then love to develop deeper relations with them at our parties," says Andrew. "We have a diverse group of friends," Tanya adds. "Some are liberal, and others are conservative, yet we all get along."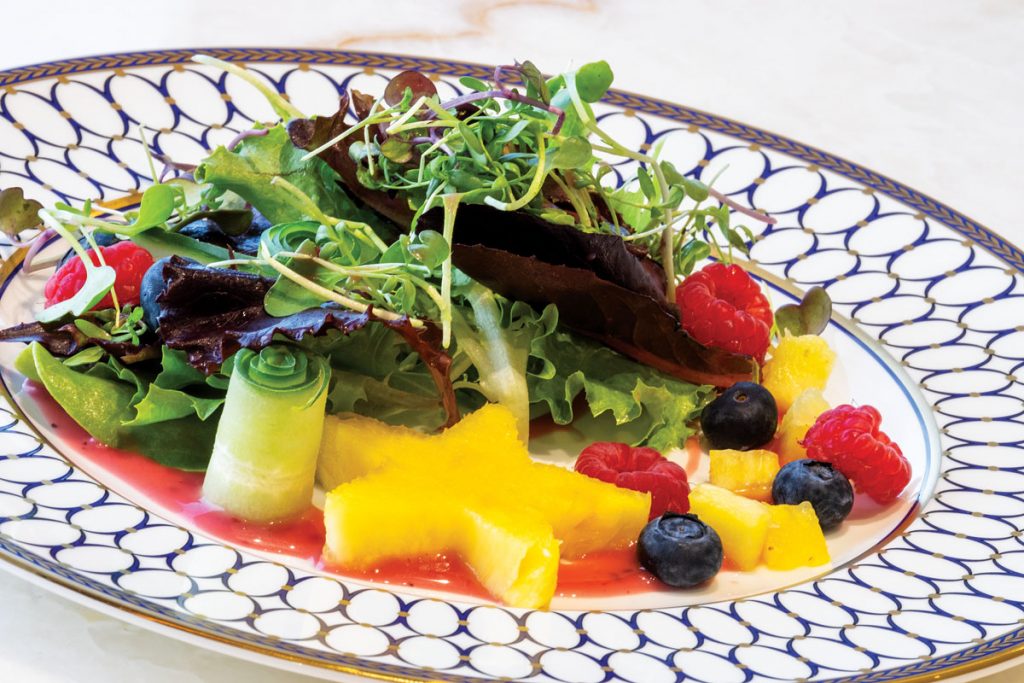 "Tanya and Andrew are so gracious and attentive to every detail," says guest Jennifer O'Flannery Anderson, vice president of advancement and community relations for Nova Southeastern University and the newly appointed president of the Community Foundation of Broward County. "We always have great conversations where I learn something."
As the boat left the dock to begin cruising up the Intracoastal Waterway toward Oakland Park Boulevard, guests took their places at the main salon dining table made of original custom burl wood mixed with newer stainless steel trim and dark wood.
Chef Adrian Rodriguez created a color-coordinated meal of patriotic American food and paired the courses with Penfolds Australian red and white wine. The first course of raspberries, star-shaped pineapple slices, and blueberry salad with toasted almonds in a raspberry vinaigrette was followed by each guest's choice of either lobster and grits, or
ribeye steak with blueberry sauce and blue cheese crumbles, plus spinach and gluten-free grits. After dessert offerings of blueberry pie (also gluten-free) and classic American apple pie, the Tanzanite returned to the Hellers' dock.
Guest Janet Jordan, who met the couple through their work for the Humane Society of Broward County, says at a Heller party nothing goes unnoticed. "When the hosts are as comfortable as these two, it offers an atmosphere of ease for their guests," she explains. "Their hospitality is renowned."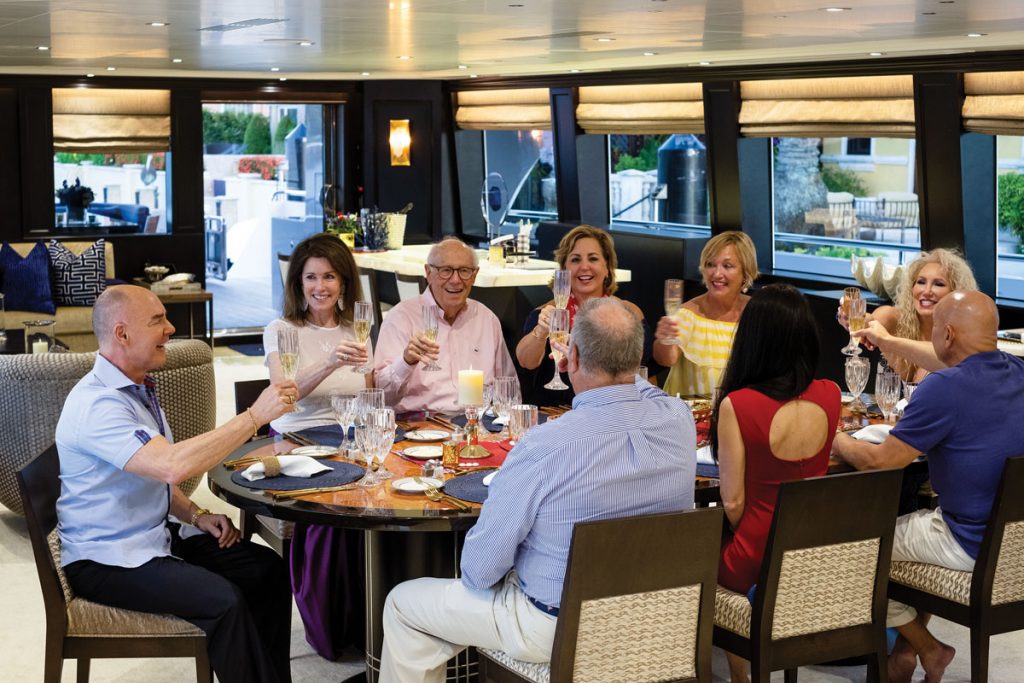 Sometimes the best relationships come later in life, as Andrew and Tanya will tell you. Their chance meeting over a decade ago has given them a life full of love and the opportunity to pursue their passions—from philanthropy to party planning—together.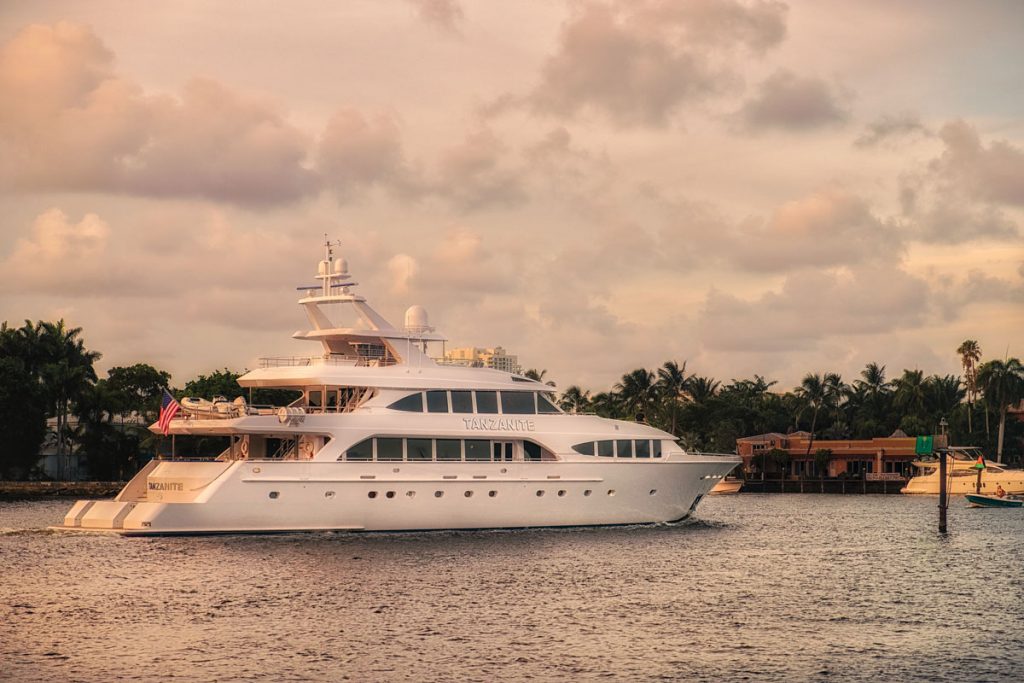 Facebook Comments