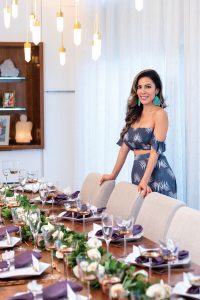 Tackling new projects presents exciting growth challenges for Kavita Channe, a Fort Lauderdale–based freelance sports and entertainment TV personality, philanthropist, and new winemaker. "I never knew anything about the various positions I accepted," says Channe. "I found things that interested me and quickly learned. I'm a jumper."
The gregarious, London-born Channe moved with her parents to Coral Springs at age 5. "I knew early on that I wanted to create, entertain, and perform," she continues. "I was outgoing and felt my greatest talents and opportunities were in front of the camera."
  In 2003, after studying broadcasting and business at the University of Florida, Channe was cast in the first season of Fox's Paradise Hotel, a reality show filmed in Acapulco and Los Angeles. "They wanted me to move to Los Angeles, and because I was interested in visiting there, I agreed to relocate," says Channe. "I was a cast member but was more fascinated with what the TV host and production crew were doing."
After a year in Los Angeles, Channe returned to Fort Lauderdale. Shortly after, she co-founded The Procurer, a luxury celebrity concierge and marketing firm. When a client asked her to do red carpet interviews at his popular Miami club, she jumped at the chance and soon found herself chatting with basketball great Le-Bron James and other notables like Paris and Nicky Hilton, Sofía Vergara, and Joe Francis. The experience proved invaluable—building her confidence and acting as an entree into celebrity coverage and sports broadcasting.
By 2011, Channe had started a YouTube channel, 1st Down N Dirty, which she used to present a series of athlete interviews that took viewers into their exclusive world. This endeavor resulted in stints hosting The CW Network's VIP Television; covering nationally televised high-school football and Florida Panthers games for Fox Sports; serving as a sideline reporter for the Jacksonville Jaguars; and co-hosting the Jacksonville talk show The Chat. "In addition, I did lots of freelance work, including radio programs and public speaking, learning something new every day," she says.
  Her career blossomed with a variety of small roles on HBO's Ballers, VH1's Baller Wives, and TLC's Designing Spaces, as well as in the 2013 film Exposure alongside Corey Feldman. Recently, she played a socialite addicted to pain pills in an experimental, 14-minute film called Dependence, directed by British filmmaker Aneel Ahmad. Slated for release later this year, it features six interwoven stories about the many forms of dependency, such as love, drugs, work, and interpersonal relationships.
This fall, Channe is planning to launch, host, and coproduce an annual TV series profiling the "seven most-fascinating people" in South Florida, she explains. "I have always been inspired by Barbara Walters and her legendary interviews."
These projects are folded into Channe's maternal life. She is raising her two small children—Micah, 2, and Maverick, 11 months—with their father, Jon DeLuca, a board member of Subway restaurants and The Frederick A. DeLuca Foundation. (DeLuca's late father, Fred, cofounded Subway and set up the foundation.) "We are a modern family in that we are not married, however, we still spend quality time together with our children," says Channe. "We care for each other a lot and get along great, and that's most important."
For her next career move, Channe sought something she could primarily do from home. She turned to her long-time passion for wine and, once again, threw herself into the unknown, becoming hands-on in the development of Channé Rosé, inspired by her travels in Provence.
"I love wine and wanted to improve on the rosé wines I have had, so I went to France and met with winemakers," says Channe. "I work with a lovely family of winemakers near St. Tropez, and we have developed my dry, crisp, and clean rosé that people can carry from happy hour to summer dinners in the Hamptons or winter meals in Aspen."
When Channe recently invited an eclectic mix of friends over for dinner in her contemporary home designed by Fort Lauderdale architect Todd Chase, she made a "Channe St. Tropez" signature drink: a mix of Channé Rosé, St. Germain elderflower liqueur, La Croix, lemon juice, and a lemon slice.
"I love bringing unique groups of people together to break bread, drink fabulous wine and Champagne, and celebrate life," says Channe. "It's important to take time, stop, and smell the rosé."
Hope Firestone, a former banker who helped Channe pick grapes in St. Tropez, now works with her on the Channé Rosé brand, which is sold online and in Florida, Georgia, and New York. "Kavita knows a lot of diverse people and likes to network over food and wine," says Firestone. "We love the French family's vineyard setting and learned how well they pair [wine with] food, so she wanted to try it in her own house."
Channe is a veteran at hosting "Dining for a Difference" events. About four times a year, she gathers 40-plus guests at a local restaurant for a five-course tasting with pairings while raising awareness and money for various South Florida organizations. She has partnered in different capacities with the American Heart Association, Broward Public Library Foundation, HANDY, and Miami Diaper Bank, and serves on the board of 2-1-1 Broward.
"I have been to Kavita's wine events in restaurants," says Garret Bushong, founder of Dips Bone Broth. "She is bubbly, loving, and commands the room with an ability to connect with anyone with her positive vibe."
As they entered the spacious pool and patio area facing a canal leading to the Intracoastal, each guest received a goblet of Veuve Clicquot Champagne and a pink rosé biscuit sprinkled with sea salt and rose petals. Set to a soundtrack of French music and situated against a backdrop of boxwood walls, waterfalls, and
banana-leaf-motif furnishings, the scene felt like something straight out of the 1969 French film The Swimming Pool.
"Kavita is the hostess with the mostess," marvels Julius Jones, a former NFL running back with the Dallas Cowboys, Seattle Seahawks, and New Orleans Saints. "She is generous and well-known, and her house is breathtakingly beautiful."
Following some alfresco conversation, Channe invited everyone inside for a four-course dinner she had planned with Fort Lauderdale chef Lenore Nolan Ryan. Party attendee Bianca Boie, who designed the home's white-and-cream interior, explained that the spare decor was a resultant combination of Channe's love of bringing the outdoors in and her penchant for dominant geometric shapes, as well as a "spiritual mix of crystals and purple amethyst sculpture."
"Kavita is a strong personality and an intelligent girl with good taste," continues Kobi Karp, a Miami architect and environmental designer. "She is an inspirational person by nature, so Kavita is all about the emotional aspects of decorating a home."
The long, wooden dining table, situated under a rose quartz and crystal raindrop chandelier, showcased a fresh runner of greens with seeded eucalyptus, Italian Ruscus garland, and white garden roses from Ann's Florist on Las Olas Boulevard. The place settings included hexagon dinner plates from Next, rose gold wine glasses from Amara, shot glasses from Wild Eye Designs, rose gold Anthropologie flatware, and quartz crystal napkin holders custom created by Boie.
The meal began with a Petrossian trio: Veuve Champagne paired with Kaluga Huso caviar on a blini with crème fraîche and chive; Channé Rosé with Kaluga caviar atop spaghetti, butter, and chive; and vodka with Ossetra caviar and homemade potato chips. The second course included a duo of lamb noisette topped with red curry spinach, and potato-crusted halibut with pomegranate beurre blanc glaze. Many dishes incorporated Channé Rosé.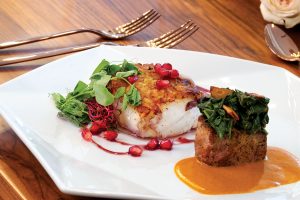 "Like a painter, I took a blank canvas and did wine tastings to see how well I could cook with Kavita's rosé, which has a bright, effervescent flavor profile," says Ryan, the chef. "I wanted to show that rosé is more than an afternoon drink."
Dessert was also a trio: a Channé Rosé–poached peppered pear served alongside a tarte tropézienne with raspberry sauce made with Channé Rosé and lace Florentine cookies with chocolate ganache. A final course of French baguettes and assorted cheeses—Cambozola blue cheese, creamy California Cowgirl goat cheese, and semi-soft French Alpine cow's milk cheese—added another touch of European delight.
As the evening came to a close, attendees raved about the food and wine with more kudos to Channe's hospitality in her exquisite, though unpretentious, home. "Kavita is a special person who is inspirational, passionate, and enthusiastic about everything she does," says Jeremy Nickel, owner of The Vineyard House in Napa, California, and a second-generation vintner.
Compliments like these make Channe tick. She wants her friends to depart feeling like the event was a one-of-a-kind experience that they will long remember. "I like it when guests say they love the food and wine," she says. "It gives me the energy to keep going."
Facebook Comments