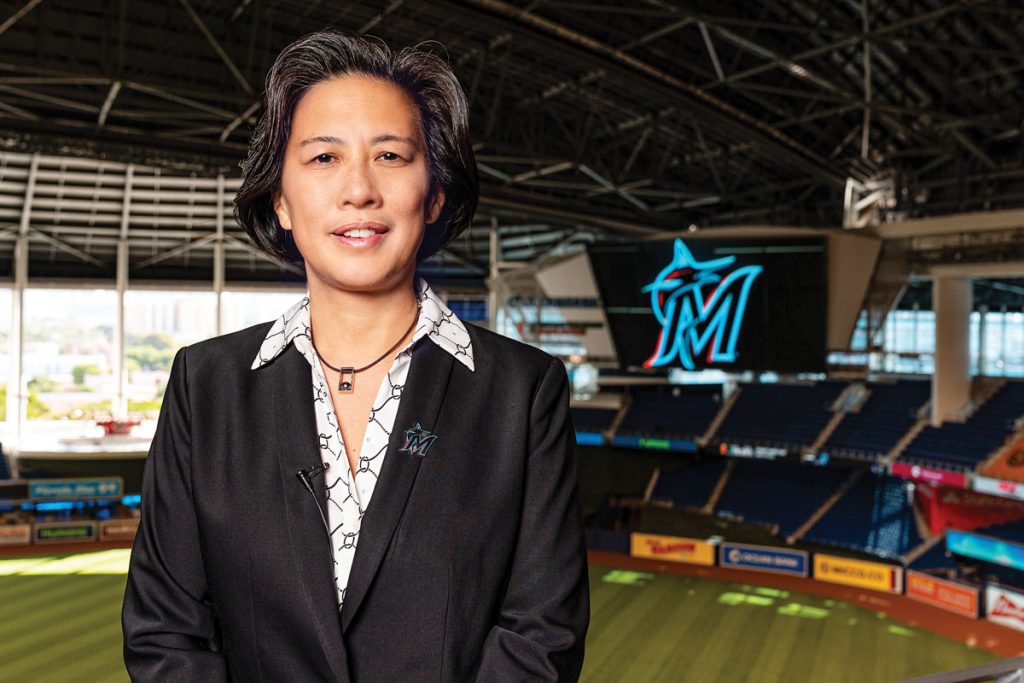 Last fall, the Miami Marlins' CEO and part-owner Derek Jeter announced that the team would be hiring Kim Ng as general manager of the Magic City's Major League Baseball (MLB) team. The move was a historic breakthrough, and Ng, 52 (and the second GM of Asian descent), has proved she is well-qualified for the role. She brings 30 years' experience as a baseball executive with MLB teams like the Chicago White Sox (1990-1996), the New York Yankees (1998-2001), and the Los Angeles Dodgers (2002-2011). The University of Chicago alumna, who played college softball for four years, was formerly MLB's senior vice president of operations. In her new position, Ng will be the Marlins' head decision-maker responsible for negotiating contracts, making trades, running the team's draft, and staying on top of everything necessary to run a successful team.
FLI: How did your experience working in the MLB central office help you better understand how teams operate?
Ng: This was my second stint in the central office interestingly enough, having served as director of waivers and records for the American League Office in 1997. When clubs call the central office, they are generally seeking help. Through those conversations and observing their decision-making process, I was able to gain a broad understanding of some of their inner workings and how the club/personnel think and operate, which served as a great learning opportunity.
What gave you the confidence to continue looking for a GM job over the years?
I'm not sure it was about confidence, as much as it was about persistence. The only thing I did know was that I wouldn't get the job if I didn't try.
What part of your upbringing made you march to your own drum, and how has empowerment made you stronger?
I think the time I grew up in was incredibly impactful: It was the 1970s, and many women at that time, including my mother, were finding themselves and finding their voices, and that meant not necessarily being limited to traditional gender roles of the time. I remember thinking from the time I was 4 or 5 years old that if something didn't make sense, as long as it wasn't hurtful, it should be questioned, and that applied to many social norms. I was not going to let others' opinions of me, or what they thought I should do, define me.
How have your parents played an important role in your life?
My parents and their parents were the very typical immigrant story: They came to this country looking for a better existence and took nothing for granted. That mindset was instilled in me as a kid and I have carried it with me my entire life. They always wanted more for me than what they had, and to achieve more than they had. I've tried not to disappoint them
Have you always loved playing sports? 
Always. I was the kid that was perpetually dirty with scabs on my knees from either playing some kind of sport or having some type of competition (with others or myself). Even if there was no one around, I would throw a ball against the stoop or play handball against the chimney, trying to perfect my shots. I was that kid. And, even as an adult, it's hard for me to walk into a room that has a ball and not pick it up and start playing with it. 
Facebook Comments