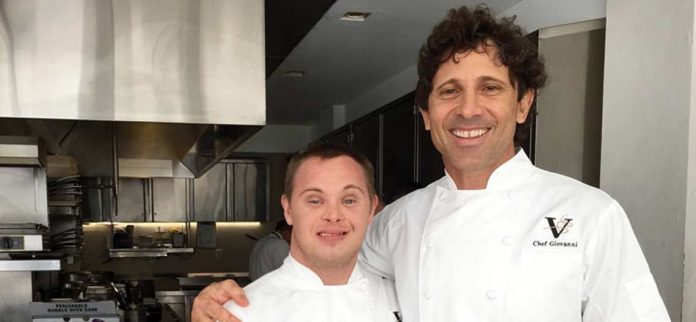 Chef Dean Bergman, who got his start at ARC Broward, proves his merit at one of Fort Lauderdale's finest restaurants.
It's three hours before dinner service at the much-acclaimed Fort Lauderdale restaurant Valentino Cucina Italiana, and things are hectic. There's a chef braising osso buco while another trims pork loins. On the front counter, sous chef Dean Bergman shreds cheese.
It's not easy work. He's working on 5 pounds of Parmesan, and using a microplane no bigger than a desk ruler. He's smiling, though, the way someone smiles after landing a good job. Or maybe more like the job.
"I do the herbs and the butter, and then I shred the cheese," Bergman says as he works. He also carries ice for the bartender and puts out the sign for the valet. He seals plastic bags to poach octopus, using a cooking method called sous vide. And he does it all without mention of Down syndrome.
Three years ago, Bergman graduated from the non-profit ARC Broward Culinary Institute, which trains 18 students a year to work in kitchens. Though the students have a disadvantage or disability, in 16 weeks they learn workplace appropriateness, how to prep a chef's station and how to work in a restaurant.
(Story continues below)
It's all made possible in part because of Delish, a yearly event where the best chefs from South Florida restaurants compete for the title of Chef of the Year. This year's event, April 14 at the Gallery of Amazing Things in Dania Beach, is expected to raise $150,000.
Some of the culinary institute's students have been told they'd never hold a job, says Melissa Gousse, ARC Broward's career and training development manager. "They're challenged in ways that they've never been challenged before," Gousse says. "We give them hope that they can do something."
Back when Bergman was a kid, his mom was told to lower expectations. "There was a time when they actually downgraded his abilities and told me he probably isn't going to be able to do what we thought he could do," says Mary Bergman, a naturopathic doctor in Pompano Beach.
At the culinary institute, Bergman developed a renowned work ethic, and during downtime he'd take on tasks like organizing the dry pantry. "That became his domain," Gousse says. "[Bergman] had a discipline about him like no other student."
Bergman worked two Delish events, and after graduation landed a job at Valentino. Chef Giovanni Rocchio remembers giving Bergman small tasks to see what he could do. "He's clean, he's methodical and he concentrates on the job," Rocchio says. "You give him a task and show him how to do it, and he'll do it right every time."
More than that, though, after three years, he has become a veteran member of the staff. "He's fun, man. He's funny," Rocchio says. "I don't know how to say this politely, but he breaks balls."
Put anything in Bergman's station, and he'll remind you that you're on his turf. That's because he has earned his right to be there. At one of the best restaurants around, Bergman has earned the title of sous chef.
If You Go:
Event: Delish 2016
Date: April 14, 2016 7 p.m. to 10 p.m.
Location: Gallery of Amazing Things, 481 S. Federal Highway, Dania Beach
Tickets: From $150
Contact: 954.746.9400
Facebook Comments