After immigrating to Fort Lauderdale with her husband and two sons in 1994, Regina Rodrigues was homesick. The Brazilian native longed for the bucolic lifestyle of her youth, when she lived on her family's farm in her home state of Minas Gerais. "I was raised cooking on a wood stove, going to the cow and taking the milk and drinking it right there," Rodrigues recalls. "We had cows, we had pigs, we had everything."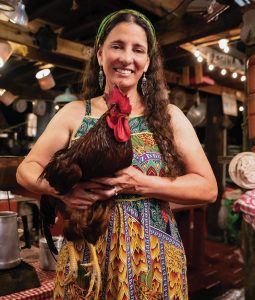 But the Rodrigueses' backyard in Fort Lauderdale's Sailboat Bend neighborhood wouldn't accommodate cows and pigs (nor would the city's zoning laws). However, her husband built her a set of wood-burning stoves, a few picnic tables, and a chicken coop. "I decided that I needed to be happy where I am," she says. "If I cannot go back to Brazil, then I'm going to bring Brazil to my backyard." 
Rodrigues soon began inviting folks over after the conclusion of religious services at Las Olas Worship Center (which happens to be right across the street from her home), serving up homemade soup, pão de queijo (cheese bread), and other Brazilian specialties. She found that cooking for family and friends in her backyard—beneath subtropical foliage with chickens and rabbits scurrying underfoot—was all she needed to acclimate. 
For the first few years, the Rodrigueses didn't dare charge for the feasts they prepared each Sunday. ("We don't charge people to eat in our home!" her husband would insist.) But, in 2006, she began hosting informal fundraisers to benefit the church and hired staff to help feed the crowds. In 2013, Regina's Farm achieved nonprofit status. So far, Rodrigues has raised $60,000 and hosted fundraisers benefiting Broward College, victims of the Parkland shooting, coral reefs, an orphanage in Haiti, and more.
Regina's Farm is only open for dinner on Saturdays and certain Sundays, with space for up to 150 people at a time. The prix fixe all-you-can-eat menu includes more than six types of gluten-free soups, pão de queijo, yucca, plantains, chicken wings, oxtail, and 15 types of desserts.  
"People would say, 'How are you going to let strangers into your home?'" Rodrigues recalls. "But I didn't want just friends and family to come here; I want everyone to know that they can come." 
The homespun charm of Regina's Farm spread first throughout the Brazilian community. What was once Fort Lauderdale's best-kept secret has now become the hottest reservation in town: The earliest availability isn't until 2029. 
While some have tried to nudge Rodrigues toward opening a brick-and-mortar restaurant in downtown Fort Lauderdale, she says she has no desire to ever leave the rustic utopia of her urban farm. 
"I don't feel homesick anymore," Rodrigues says with a smile. 
Facebook Comments