Urban Mix
2781 SW 36th St., Dania Beach
Tamer and Claire Harpke started their eponymous family farm in 2013 to supply the hospitality industry with local, seasonal produce. "When we were in the wine business, we spent a lot of time traveling in the Southeast, and we saw a disconnect between restaurants and local farms," says Claire. "For example, restaurants weren't sourcing seasonally. This disconnect was an opportunity right in our backyard that inspired us to start growing."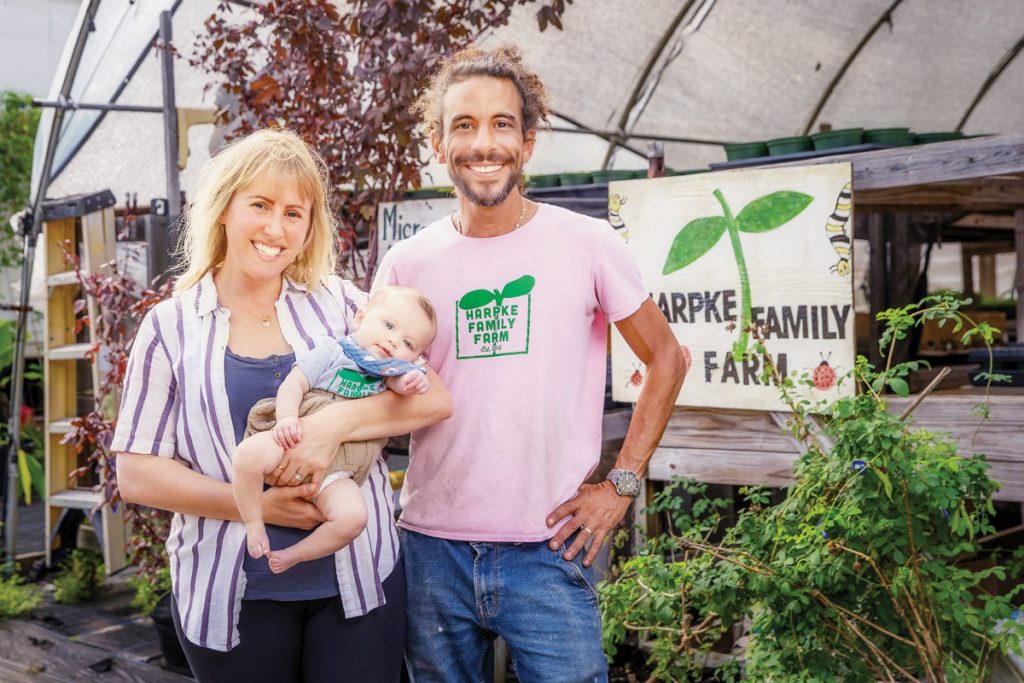 The Harpke Family Farm is a single-acre urban farm in Dania Beach that grows microgreens, edible flowers, gem lettuces, and specialty items including sorrel, hoja santa, and petite greens. "During peak season when temperatures cool down in South Florida—November through March—we also grow select root vegetables, peppers, and tomatoes," Tamer adds.
Devoting 75 percent of the farm to growing, they use methods including hydroponic, grow bags, and hoop houses. "Grow bags are great for our hot and wet climate because they can breathe and drain instead of the flooding we would encounter with in-ground farming," says Tamir. "Hoop houses help protect our delicate microgreens and herbs from the heavy rain. Our deep-water culture hydroponic system is very versatile and productive, allowing us to produce year-round."

With a focus on sustainability, the Harpkes eschew synthetic or toxic chemicals on the farm, and they have eliminated single-use plastic in all of their packaging. The grow bags use drip irrigation to conserve water, and the closed, deep-water culture hydroponics system uses up to 90 percent less water than soil applications.

COVID has put a dent in their business, but the Harpkes turned wilted lettuce into fresh greens by branching out to residents. As Claire explains, "Before COVID, we focused primarily on restaurant, yacht, and private chefs, and we had a very small CSA program for local customers. When COVID hit, that hospitality business evaporated overnight, but we quickly recognized that there was a much higher demand from local customers for fresh food that didn't require a trip to the grocery store. We spun up an online store to allow local families to order our products with contactless pickup at the farm. We've continued to expand our offerings by partnering with other local businesses we're excited about like Frice Cream, Lake Meadows Naturals, and MEP Juice."
The farm's CSA program is on hold for now, as are the tasting dinners that were held on the property, but the Harpkes are looking to the future. The online store is a success, and Tamer reports, "We are also expanding to another 10-acre property in Davie where we are building a new greenhouse and plan to expand our offerings with fruit trees." 
The Accidental Farmers 
5151 SW 64th Ave., Davie; 954-945-5744
Chelsea Marando and her husband, Fred, didn't set out to be farmers. They had both lost their jobs in the 2007 recession, and while Fred was doing landscaping and upkeep projects for Bank of America, Chelsea decided to get her hands dirty, too. "I did some hydro-planting and some soil-based planting, and I was teaching gardening to people," she says. The couple also started a farmers market to supplement their income.
"We had a few customers, and the Sun-Sentinel and the Miami Herald did stories on us. Within a couple years, we had a million-dollar business," Chelsea says. "It was
supposed to hold us over until I found a job. We became farmers by accident."
Today, they operate Marando Farms & Ranch, a 10-acre farm just 8 miles west of downtown Fort Lauderdale, where they grow a variety of fruits and vegetables. "Tomatoes are our thing," says Chelsea. Other crops include carrots, sweet potatoes, cucumbers, watermelon, cucamelons, sugar snap peas, and green beans. Fruit trees produce mangos, avocados, oranges, and peaches. The farm is open to the public six days a week (closed Wednesdays) and features a farmers market and the farm-to-fork Twisted Tomato Café.
The farmers market supports 20-25 area farmers and helps the Marandos move their produce. "COVID forced people to stay home, and they were scared to go out," says Chelsea. "But people are cooking again, and we're getting lots of new customers at the market. I hope people can be mindful of what is really important—families."
Due to COVID, this family affair farm only has hired help on Wednesdays, so Chelsea and Fred are doing the work along with their children, Samantha, 9, and Max, 14, and Fred's adult daughter, Lea. They tend to the gardens and feed all of the animals twice a day. Fred and Chelsea run the kitchen at the café on Saturdays and Sundays. And, while the pandemic caused the cancellation of their annual summer ranch camp, Marando can be booked for weddings and other events in the farm's 5,000-square-foot pole barn.
"It's rare that we leave the farm. We live, eat, and breathe farming, but it's lovely and wonderful, and we wake up and there are baby goats," Chelsea says, referring to the fact that  two baby goats were born on the farm the same morning FLI was set to interview the family. "Farm life is everchanging and exciting. You never know what you're going to wake up to."
Those new baby goats will join a menagerie of 75 rescue animals, from donkeys, horses, and mini horses to emus, pigs, and, of course, goats, as stars of the petting zoo. There also are chickens that are raised for eggs and meat.
Marando also has a CSA program, which people can register for on their website. "It's for 20 weeks, and every week you get a half bushel or a full bushel, all picked within the last 24 hours," Chelsea says.
"I love the beginning of every season, and I love the end of every season," she says. "It's the hardest job, but it is the most rewarding."
  
Making Ugly Fruit Beautiful
Not open to the public
Sarah Frey grew up on her family farm in Southern Illinois, growing and selling melons and other produce when she was just 15. When she was 17, she took over the farm, eventually buying it as she grew her business. "I made the decision to stay because of my family," she says. "I wanted to build something that would allow my [four] brothers to come home and a business that they could join me in."
Today, Frey Farms has growing operations in seven states—Illinois, Indiana, Arkansas, Missouri, West Virginia, Georgia, and Florida—and is the leading producer of pumpkins in the nation. In the Sunshine State, Frey has farms in LaBelle, Parrish, and Newberry, growing melons, tomatoes, sweet corn, hard squash, peppers, and citrus fruits. Even as the business is spread out, at the heart of it is still family.

"Ultimately, family is at the foundation of everything that we do," says Frey, who has written about her life in her book, The Growing Season: How I Built a New Life—and Saved an American Farm. She adds, "As we've grown our business, we haven't lost sight of the reason that we've grown our business. And so, although we have farms now and work with growers in different states, it's still a very family-centric company. At the core of everything that we do is families—our family, our grower/partner families, and really, consumers and their families. Our mission is to provide healthy food and beverages that we would want to give our own families."

In addition to fruits and vegetables that are sold through grocery retailers, the company also offers Tsamma Juice, which is made in Florida using the "ugly" watermelons grown there. More "ugly" fruits are made into Aqua Fresca juice drinks, teas, and lemonades under the Sarah's Homegrown brand. "Not everything is perfect, and you have some really tough growing seasons," Frey says. "You have to ask yourself, what do we do with [the ugly] fruit? Do you find its greater purpose? We make ingredients out of the visually imperfect fruits and vegetables, then those ingredients end up in really incredible, clean, healthy, simple, delicious food products… That was the inspiration for launching Sarah's Homegrown with Publix: to use more of what we grow, waste less, and make products that are clean, simple, delicious, and fresh off the farm."

Empty grocery shelves during the early months of the COVID pandemic gave Frey a moment of reflection on the state of American farmers and our food supply. "Every human being on the planet has agrarian roots," she says. "I think that 2020 has provided an opportunity for more people to reconnect with the land and their food and also who is growing their food." Pointing out that more than 50 percent of America's fruits and vegetables are imported from other countries, she hopes that this crisis and the food shortages that happened in grocery stores nationwide will make people more aware of their food supply chain and be encouraged to buy more American-grown products. 
She adds, "If you try to see the good in the ugly fruit of 2020, it's that average, everyday consumers are more aware of who, where, and how their food gets to those grocery store shelves." «
Facebook Comments