Well done Lauderdale, take a bow and pat yourself on the back.
The 61st Fort Lauderdale International Boat Show wrapped-up Sunday after a five-day run, and everyone you asked gave it a firm two thumbs up. Way up.
Yes, there were plenty of empty slips. And empty booths in the cavernous exhibition tents. No Superyacht Village either. Plus fewer visitors strolling the docks.
So why the reason for all this nautical euphoria? Seems everyone, from new boat builders, to used boat brokers, to the vendors selling everything from chart-plotters to polarized sunnies, did a roaring trade.
"FLIBS has been a major success for us, especially considering the challenging circumstances," said Pat Healey, president and CEO of Florida's Viking Yachts.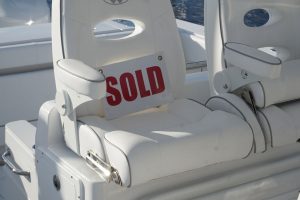 "In the first three days, we sold more than a dozen boats between our Viking and Valhalla Boatworks brands. That included two 92s and a 68. We debuted our new Viking 54 Convertible, and sold it the first day."
Sabrina Fernandez, Marketing Manager for Azimut Americas added: "By the end of Thursday, we had two boats sold. And the number of serious buyers making appointments to tour our new Magellano 25 Metri was impressive".
Fernandez reckoned many of the buyers this year had been suffering from a kind of Covid-19 cabin fever.
"I think that throughout the months of Covid lock-down, people have been dreaming about a new boat to escape with their families. FLIBS proved a perfect opportunity for them to comparison-shop and make the move."
Bob Denison, of leading boat broker Denison Yachting added: "From Day One to Day Five, the docks were buzzing. The show made life here in South Florida feel sort of normal again.
"The entire Denison family is grateful that the show took place. Not only was it a good event for the city at large, it was meaningful to thousands of small businesses like ours."
"We debuted our new 88-foot Explorer 27 yacht here at the show and had a contract the first day," said Sally Doleski, VP of Marketing for Ocean Alexander. "The interest from qualified buyers has been outstanding."
The Seattle-based yacht builder had an especially welcome windfall when West Palm's multi-millionaire auto magnate, car collector, and passionate boater, John Staluppi, walked on to its show stand.
He walked away having signed contracts for a new 104-foot Ocean Alexander 32, and a new outboard-powered Ocean Alexander 45-foot Divergence Sport. "I always go to a boat show with intent to buy boats," said Staluppi.
Tim Petrillo, CEO and co-founder of The Restaurant People, which owns 12 eateries in and around Fort Lauderdale, said FLIBS had given his company its best week in months.
"Seeing our business get back to somewhat normalized levels, gives our entire team hope that there is light at the end of this very dark tunnel. I am grateful that FLIBS pushed forward to host the event this year."
As for Covid precautions, naturally there was a small percentage  of show-goers who declined to wear their masks – especially in the bars and refreshment tents which became pretty much mask-free zones. Soaring outside temps during the first three days, also had people un-masking.
But the majority of people we saw walking the docks seemed happy to mask-up, use the hand-sanitizing stations, and keep their distance.
"We were certainly impressed with the COVID protocols at the show, the contactless ticketing and adherence to mask-wearing," explained Rudi Miklosvary, US general manager of Fliteboard, which makes those electric foiling surfboards that were zipping around the marina.
As for making the decision to book a stand at FLIBS, most manufacturers seemed pleased they took the gamble.
"We were on the fence about coming to FLIBS until about six weeks ago," says Nick Bischoff, Benetti's Americas Marketing Manager. "But I think it surprised everyone at just how much of a success it has been. I think people were really ready for a boat show."
Thinking ahead to FLIBS 2021? Mark your calendars for October 27 to 31. www.flibs.com
Facebook Comments