Take A Dive
Doesn't every superyacht come with its own three-person SportSub submersible to take you 130 feet down into the deep, blue yonder? Seems not. But the 145-foot, Cheoy Lee–built Island Heiress does. It's just one of the amazing watersport toys that come with this elegant globe-trotter. Imagine the fun you'll have zooming down the yacht's inflatable waterslide, then hoisting yourself back up via the inflatable climbing wall. To get you to those remote Bahamian dive spots, Island Heiress offers a 34-foot center console tender and 20-foot RIB, plus trained dive instructors among the crew of 10 to lead you on underwater adventures. Refitted in 2019, she has space for 12 in six cabins. Based out of Nassau, the yacht charters through Hill Robinson in the Bahamas from $110,000 a week. 

Sexy Siren
There are times when you just want to embrace excess. Like renting that lime-green Lamborghini for the day, or splurging on dinner at The Breakers for 20 of your best friends. That same urge applies to chartering the 78-foot Sexy by Lazzara Yachts. Reserve for half a day, a full day, or a whole week, and she'll take you anywhere at a speedy 27 knots. With her lipstick-red upholstery, silver lamé sofas, and red and black galley, there's a definite Don Johnson–Miami Vice vibe. What fun for an Austin Powers–themed party or far-out birthday treat. She can carry up to 13 guests for a sunset cruise or sleep up to eight in four staterooms. Based out of Boca Raton, Sexy charters through Moran Yachts from $6,000 a day. 

Grand Dame
As the saying goes, life's too short to charter an ugly yacht. And the 140-foot Fabulous Character is sure to make any sailor's heart soar. Winner of a coveted World Superyacht Award for exterior design, this Holland Jachtbouw–built masterpiece oozes sophistication from every porthole. She's made for relaxation, with an interior layout that can accommodate 10 guests in five staterooms with pampering from a crew of nine. The classic ambience continues inside, inclusive of French Provençal finishes and lovely weathered limed oak. And to ensure total comfort at anchor, this blue-hulled beauty comes with zero-speed stabilizers to reduce the chance of whitecaps forming on your martini. There is also an on-board gym, stand-up paddleboards, water skis, and even an inflatable sailing dinghy. Her favored cruising grounds are the Northern and Central Caribbean, where she charters through Camper & Nicholsons from $150,000 a week. 

A Touch of Class
Who can forget the iconic "I'm flying" scene in Titanic when Leo and Kate stood on the bow of the doomed liner? You can pretty much experience the same kind of thrill from the comfy, far-far-forward sunpad of the Touch motor yacht. It's perhaps the coolest spot on this 120-footer to feel at one with the ocean—especially when she's at her 12-knot cruising speed. Touch is a true grown-up's vessel, with seductive staterooms (all beds are king-sized with not a single bunk in sight) and service that's described as "six star." The only dilemma will be determining who gets the owner's stateroom complete with a private deck and spiral staircase, as well as a bathroom bedecked in marble, gold leaf, and Lalique glass. Touch charters through Camper & Nicholsons around the Bahamas, Turks and Caicos, and the Leeward, Windward, and Virgin Islands from $80,000 a week. 

Crème de la Crème
Have a spare $1.2 million burning a hole in your chinos? Because that's what it costs—plus expenses, naturally—to charter the 312-foot gigayacht Kismet for a truly unforgettable week cruising the Caribbean. Owned by Jacksonville Jaguars principal and Naples resident Shahid Khan (who's worth $7.8 billion according to Forbes) Kismet was built back in 2014 by the legendary German shipyard Lürssen. There are not enough superlatives in Webster's to fully describe the hedonistic luxury of this floating palace. With interior design by Laura Sessa, the Kismet's style is a jaw-dropping mix of Japanese and Art Deco. There are seven cabins for 12 guests, and a crew of 28 to look after your every whim, wish, or want. If you love the experience, ask nicely and you could take her home; yes, Kismet is for sale, though it's definitely "price upon application." For those interested in a test drive, charter bookings are handled through Moran Yacht & Ship in Fort Lauderdale.

Making Waves
Fresh from a $4 million refit, the 164-foot Westport Trending is crammed with the latest water toys to help you really make a splash. From the 37-foot Boston Whaler in tow to its armada of Jet Skis, Sea-Doos, SeaBobs, paddleboards, glass-bottom kayaks, kite surfers, and eFoil surfboards, Trending has it all. The superyacht also boasts its own kite surfing and PADI-certified dive instructors. On board there's room for 12 in six chic cabins, with a crew of 11 including a Michelin-star-trained chef. And as part of her facelift, Trending is now loaded with the latest audio, video, and WiFi systems that make it easy for guests to sync and share music, videos, or images from their smartphones. Trending cruises the Caribbean and charters through Camper & Nicholsons from $210,000 a week.

Black Magic
With 17 yachts to choose from, Miami-based Golden Yacht Charters claims to have the largest charter fleet in South Florida. While its flagship is a sleek, 116-foot, Italian-built Azimut superyacht, it's the "baby" of the family, the stealthy VanDutch 40 Black, that's guaranteed to turn heads when cruising along the Intracoastal. With seats for up to 10 guests and a captain at the helm to keep you in the channel, the VanDutch is an ideal day-tripper. And with a small cabin complete with a fridge, microwave, and sink, this speed demon makes for great alfresco dining. If black isn't your color, Golden Yacht Charters have a second VanDutch 40 that's Ferrari red. Charters start at $3,000 a day. 

Classic Elegance
Her guests have included everyone from Robert De Niro to Madonna, Bruce Willis to Jimmy Buffett. Harrison Ford lived aboard her in Belize during the filming of The Mosquito Coast back in 1986. Today this exquisite 122-foot classic fantail motor yacht known as Mariner III can host parties of up to 80 for a stylish wedding or dinner cruise, or up to 10 guests in six cabins for a weeklong cruise to the Bahamas or Florida Keys. Built in Seattle in 1926, this Gatsby-era vessel recently enjoyed a major refit with the help of acclaimed interior designer Mitchell Turnbough. While she summers in New York, she heads south for the winter to season in Palm Beach under the command of her long-time owner, captain Sean Kennedy. Charters are priced from $15,000 for an event to $55,000 for a week in the Bahamas.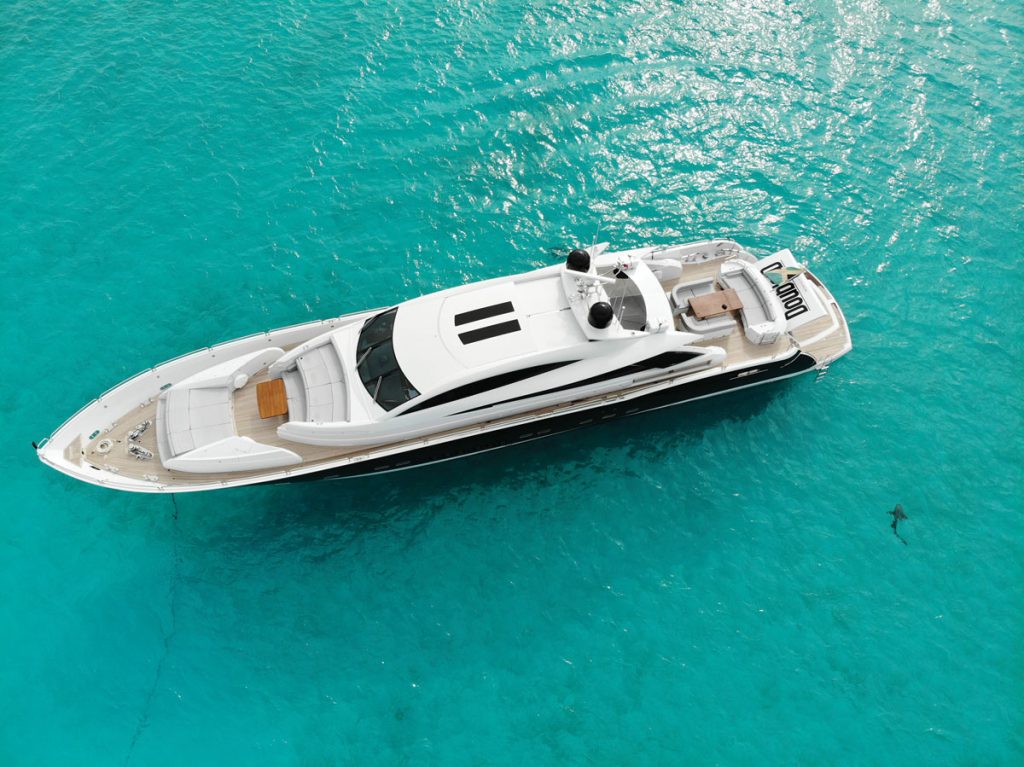 Fast & Fabulous
If you really want to arrive in the Bahamas in time for lunch, the 108-foot Sunseeker Predator Double D can get you there in a hurry. With a crazy-fast top speed of 45 knots, Double D will ferry you from Fort Lauderdale to Bimini in less than 90 minutes. Once there, you can spend a week at a gentler pace, luxuriating on the yacht's multiple sunpads or catching another amazing sunset on the sprawling foredeck. Down below, there are four lavish staterooms to accommodate up to eight guests in air-conditioned bliss. When it's time to play, Double D is equipped with a full suite of water toys, including a 215-hp SeaDoo, an inflatable trampoline, and a fast Zodiac tender. Weekly rates are from $55,000 through Hill Robinson.
Posh Practicality
Living the good life on a superyacht while you cruise the Bahamas doesn't mean you can't stay in shape. The 213-foot Eternity comes with a dedicated sundeck gym with everything from a punching bag to yoga mats to a stationary bike. Plus, there's a huge foredeck Jacuzzi that doubles as a resistance pool. Completely refitted and repainted from stem to stern in 2018, this Italian-built Codecasa can sleep 12 in seven cabins. The highlights of the stunning master suite include an adjoining office and a fold-out balcony. If you love the artwork—which is updated twice annually—you can take it home with you, for a fee, of course. Eternity spends summers and winters in the Bahamas and charters through Hill Robinson from $330,000 a week. 
Chartering 101

Barbara Dawson, senior charter broker at Camper & Nicholsons, explains the dos and don'ts of chartering a luxury yacht.
Only use a professional charter broker. For luxury charters, it's key to use a broker who's a member of the International Yacht Brokers Association. They'll have knowledge and experience of the yachts with the best crews, chefs, and toys, and can steer you to the best destinations. They'll also be there if anything goes wrong.
Know how much it will cost. The weekly charter price is only a fraction of what you'll pay. Add-on costs include fuel, docking, food and drink, tax, and tips for the crew. These can often add between 30 and 35 percent to the charter.
Plan your route. Some charter yachts are faster than others. If you have a wish list of beaches or ports you want to hit, make sure you know—with the help of a broker—whether the yachts on your shortlist have the speed to get there.
It's all about the toys. Most luxury yachts will offer a selection of toys to enjoy; Jet Skis, paddleboards, and fast tenders are the usuals. But some yachts go the extra mile and come with the very latest in water toys, like Flyboards, kite boards, mini-submarines, electric Foilboards, and climbing walls. Just make sure the crew is proficient in teaching how to use them.
Don't watch any episodes of Below Deck. The Bravo reality show chronicling the lives of crew members on a charter superyacht is just that—a reality show. Most of it is just acting.
Facebook Comments