Minimalism: Less is More
Minimalism is about living with less—things, expenses, waste, stress. Sure, you can read Marie Kondo's classic tome, The Life-Changing Magic of Tidying Up, to make your space look like something out of a Zen photo shoot. But Korinne Kubena Belock, founder and owner of Urban Simplicity, an organizing service based in Palm Beach and New York City, says the philosophy behind minimalism is even more valuable than the visual reward.
For Belock, minimalism is also about finding more in life beyond material goods. "Adopting this lifestyle can help foster healthy relationships with the people who are most important to you and help you focus on experiences and relationships," she says. "When you eliminate the clutter that surrounds you, you can focus on doing more with your time and life."
So how do you become a minimalist? Belock says the process looks different for everyone, but following these basic decluttering steps can help even the most precocious packrat pare down.
Step 1: Define it. Minimalism means intentionally living with only the things you need. As you try to discern which items in your home you truly need, ask yourself:
• Is this item useful to me?
• Is it the only one I own?
• Does this item bring me joy, usefulness, or meaning?
A "yes" means the item can stay. A "no" means it's time to let it go.
Step 2: Organize it. Once you decide which items you would like to keep, organize them in a way that works best for you.
Step 3: Maintain it. Belock warns clients of seeing their newly decluttered spaces as opportunities to acquire more stuff. Once you've done the work of paring down, it's time to maintain it. "Be cognizant of your purchases and how you would like to invest your time, energy, and money," Belock advises. "Minimize the clutter to maximize your quality of life."
3 Places to Minimize
Want to minimize and organize but need a starting point (and some inspiration)? Belock suggests starting with one or more of these clutter-collecting spaces. 
The Kitchen
Every member of the family uses the pantry, which means it tends to get disorganized quickly. Pull everything out and eliminate any dishes that are chipped, mismatched, or no longer used. Highlight what you love. Maybe baking or entertaining is your passion. Figure out what's important to you, group all related items together, and make space for them. When in doubt, look up. Utilize vertical space inside cabinets with stacking bins or tiered shelves.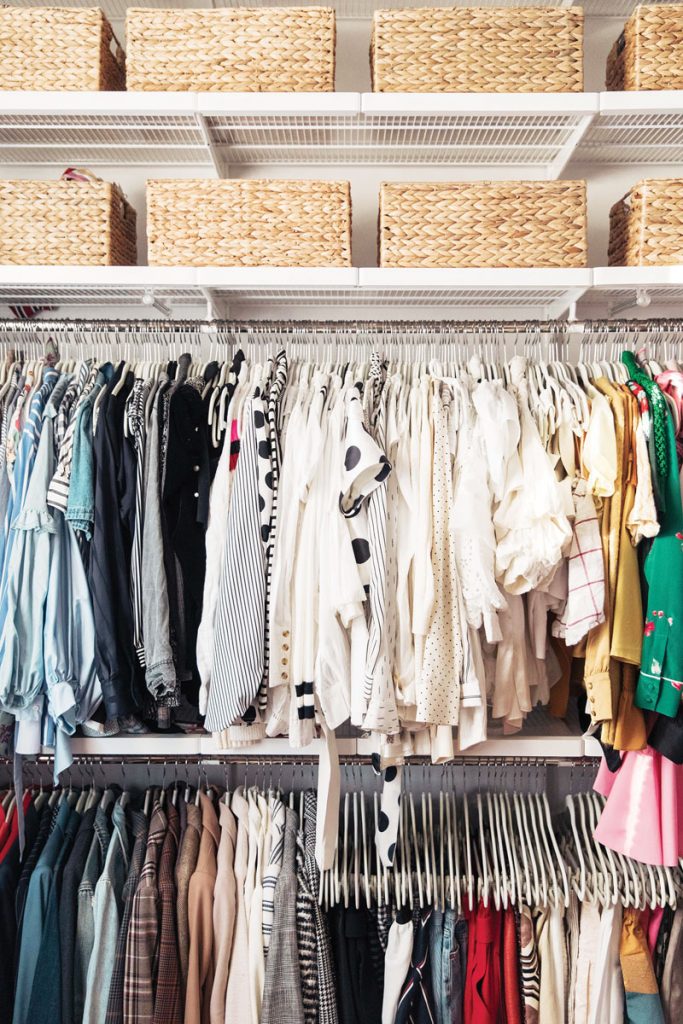 The Closet
Your closet should be organized like your favorite boutique, so you can showcase and "shop" your clothing. The overall goal is to make the space both functional with organizing systems and stylish with design elements. Hang clothing on matching hangers and organize by type, then color. You'll be able to see what you own so you can put together fabulous outfits.
The Playroom
Use open-top bins to sort larger toys. Labeled, stackable, clear plastic bins can keep sets of smaller things in order. If you can clean up toys in 10 minutes, your system is working. Keep categories of toys broad so children can help with clean up. To maintain organization, especially in a playroom, use the one in, one out rule: For each new item you buy, make a decision to let one item go.
Mindfulness & Meditation
Mindfulness is being aware. It's noticing and paying attention to everything you're experiencing—from your thoughts to your feelings to your behavior. It's the kind of thing you can practice not only anywhere, but at any time. Just show up, engage yourself fully in the here and now, and you're practicing mindfulness.
But it takes more to achieve mindfulness on a deep level. Gigi Falk, who runs the Art of Human Being with her sister Kayla—offering workshops and classes based on their training with mindfuness master Shinzen Young—says true mindfulness means being free of the past and future, the what if's and what maybe's, the judgment of right or wrong so that we can be totally present in our lives without distraction.
It's worth the effort: Research shows that mindfulness releases "happy" chemicals like serotonin in the brain. It can also lower blood pressure, improve digestion, and increase pain tolerance.
The Falk sisters say that a frequent meditation practice can help you develop the state of mind and being that makes mindfulness possible. And the two practices, they say, go hand in hand. "They're like mirror reflections of each other," Gigi says. "Mindfulness is a quality of mind. It's a capacity for awareness. It supports and enriches meditation. Mindfulness training is where you get to apply what you've learned in your practice of meditation."
While mindfulness can be applied to any situation throughout your day, meditation is usually practiced for a specific amount of time in a specific location. Another way to think of it? "Mindfulness is the awareness of 'some-thing,'" Gigi says. "Meditation is the awareness of 'no-thing.'"
"Mindfulness is a cultivated quality of mind," Kayla says. "A lot of people tend to see mindfulness as something they have or don't have. It's a skill you build like anything else. Every time you practice your meditation,  you're improving your capacity to be a mindful human being."
In the Zen Zone
Breathing Bauble
Inspired by Japanese monks, this sleek breathing tool ($85-$115) from Kumoso gives you a stylish and science-backed way to focus on your breath. 

Calming Cards
Cultivate mindful moments with this deck of 50 cards ($17) with inspiring phrases and bite-size exercises.
Cradled in Comfort
Inspired by an ancient Japanese bean bag toy, this Takaokaya Ojami meditation pillow ($160) ensures that every meditation session begins and ends in comfort.
Soothing Sounds
Solu's N.O.W. Tone Therapy speakers ($179) provide peaceful tones that calm your mind, keep you focused, and leave you feeling refreshed.
Roll-On Reminder
Roll on Solvasa's Breathe Mindful Oil ($44) and let the aroma work its magic when anxiety or distractions trigger you.
Pages for Practice
Find peace and calm amid the busyness of life with help from Zen guru Thich Nhat Hanh. Making Space: Creating a Home Meditation Practice ($10) offers meditations you can do anywhere.
Mindfulness Monitor
Like a FitBit for meditation, Muse ($349) uses neurofeedback paired with app-based auditory cues to bring you back to center when your mind wanders.
The Slow Movement: Pivot Your Pace
The slow living concept is all about embracing a natural flow—and eschewing the waste and stress that accompanies "faster" lifestyles filled with reflexive multitasking, breakneck pacing, and competitive consumerism.
First given a name in journalist Carl Honoré's 2004 book, In Praise of Slow, the movement doesn't ask us to chuck our overly speedy lives and start from scratch. Instead, it suggests that we take the time to be present in our daily activities, enriching our lives by savoring what matters most (thrills over things, health over hurry, planet over profit) and not trying to impress ourselves or others with what we can buy or achieve.
To hop on the slow-moving bandwagon, try adopting a slower pace in one or more aspects of your life. From the food you eat to the clothes you wear to your daily beauty rituals, options abound to consciously slow your roll.
Deliciously Deliberate
Thirty years ago, a group of Italians gathered in Rome to protest a fast-food franchise opening at the base of the city's iconic Spanish Steps. "We don't want fast food," the protestors chanted. "We want slow food!"
That was the start of the Slow Food movement—which today spans 160 countries, with 150 chapters in the United States. Slow Food Glades to Coast and Slow Food Miami are two such chapters working to promote the slow food movement's ideals of good, clean, and fair food for all. These volunteer-led organizations give their "Snail of Approval" (SoA) awards to local restaurants that serve quality food that is mostly local and sustainably raised and grown.
Try one of these Broward and Miami-Dade County SOA Honorees:
Broward:
Burlock Coast at The Ritz-Carlton Fort Lauderdale, 3030 Ocean at Marriott Harbor Beach
Miami-Dade: Books & Books Café Root & Bone, Babe's Meat & Counter Frice Ice Cream, Beat Culture Brewery
Calmer Cosmetics
Slow beauty is about investing in products that have been lovingly crafted using sustainable methods and intelligently sourced ingredients—and using fewer, better products to lessen unnecessary consumption and waste.
Local herbalist and slow beauty promoter Juliane Miklos says we can use plant-based wellness to power enduring beauty. "I fell in love with tropical plants and the medicines we can all make from them," she says.
Miklos hosts a Slow Beauty Club meetup at Delray Beach's Swinton Community Garden, teaching folks how to infuse plants into various beauty products like salt scrubs, face masks, hydrosols, and body oils from earth-friendly ingredients like lemongrass, eucalyptus, rose, calendula, and Dead Sea salts.
Slow and Stylish
Located inside the Citadel in Miami's historic Little River District, Pivot Mkt bills itself as the Magic City's first sustainable department store. The 7,200-square-foot space features fashion, beauty, home, and decor for men, women, and kids. Beyond sales, Pivot Mkt hosts a learning center dedicated to educating visitors on sustainability practices, with workshops on topics like how to identify sustainable and biofriendly products.
Ready to convert your fast-fashion past to your fair-fashion future? Pat Luna and Maria Leinanger, co-founders and owners of North Palm Beach's WearLuv consignment boutique, tout the benefits of shopping for clothes and accessories on consignment. "Slow fashion is about shopping unique, shopping different," Luna says. "Consignment is a part of that. We're a sustainable, chic alternative to everyday retail with a fashion-friendly vibe." Below, Luna and Leinanger offer some tips to get the most out of your current clothing and future purchases.
Play Dress-Up: Most people wear 20 percent of their wardrobe 80 percent of the time. Try experimenting with different combinations and mastering new styling tricks to help make the garments you already own last longer. 
Aim for #30Wears: Coined by Livia Firth, founder of sustainability consultancy Eco-Age, #30wears is a benchmark to extend the lifespan of your clothes. Before buying anything, ask yourself: Will I wear this at least 30 times? If the answer is no, put it back on the rack.
Pass It On: Got a quality item (or items) that you just don't wear anymore? Consider consignment. You'll make room in your closet, keep an item from the landfill, and make a little money in the process.
Go for Seconds: Before buying anything new, try to find it secondhand. This could mean rummaging in a consignment or vintage shop, buying from an online resale platform, or even borrowing something from a friend. Choosing quality secondhand clothing reduces the demand for manufacturing and waste in landfills.
Consciously Chic
Slowing your fashion frenzy and beauty routine can be as simple as choosing items that are made from sustainable materials that aren't quickly and cheaply produced. From clothes to cosmetics, try these state-of-the-earth options on for size.
Bio Bathing Suits
The swimwear collection from Carve Designs is made from recycled plastic water bottles. Each garment ($42-168) removes an estimated five plastic bottles from landfills. 
Earth-Friendly Elixir
Use LOLI's Plum Elixir serum ($68) to nourish everything from dry skin to frazzled hair to weathered cuticles. The glass jars are recyclable and the products feature compostable labels, bags, and boxes.
Lips to Lids
Axiology's Balmies ($36) are a trio of planet-friendly crayons for your lips, cheeks, or eyelids. They come wrapped in paper and are housed in a handy recyclable case.
Sustainable Sneakers
Reebok enters the slow-fashion game with a shoe made from biodegradable corn and cotton. These plant-based shoes ($90) can be composted after you're done with them. 
Facebook Comments