Photography by Jessica Glynn Photography
A few months after HW Interiors' owners and principles Lisa Hynes and Heather Weisz finished transforming their client's Palm Beach Polo and Country Club home, they received some surprising news.
"Someone literally rang their [client's] doorbell and offered them a significant amount over what they had paid and renovated," Hynes recalls. "So they sold it, fully furnished and toothbrush-ready, took the profit and bought a half-acre of land they wanted to build on, and that's the house in the Cypress Island community we're talking about now."
Before embarking on the remodel, Hynes and Weisz, who hail from Connecticut and New York, respectively, had already established a social connection with their clients, Jen and Kevin Johnson, a couple with four children between the ages of 5 and 17. "We ran in the same circles, our kids took dance classes together, so they knew what we did," Hynes says.
The six-month enhancement required myriad updates, including tearing down walls, modifying flooring and tossing out heavy wood fini\shes, an activity Weisz has dubbed "de-Tuscanizing." Similar to Frankenstein's molecular reawakening, a necessary injection of pared-down elegance gave each space a new lease on life.
The Johnsons weren't the only ones impressed with the sublime redesign. Once the subsequent owners had moved in, they commissioned the duo to realize a meditation room and complete a few additional projects upstairs.
When it came time to discuss room schematics and mood boards for the new build on Cypress Island—a project that lasted nearly two years—they presented Jen with past works of their own and others to gauge the style and colors that tugged at her heartstrings. "At that point," Hynes says, "she can say, 'I'm not feeling this or I love it, just go run with it.'"
She continues, "The reason we feel her projects come out so amazing is [because] she really has faith in us and trusts that what comes from Heather's brain is going to be beautiful."
A full-time, stay-at-home mother,  Jen warmed up to the idea of working in some of the same functionality and transitional style that had echoed through the couple's former residence in Maidstone, but she had one caveat: with four growing children, the rooms needed to be kid-friendly.
After they received the green light to proceed, the design duo collaborated with the architect from Yellowfin Builders, a West Palm Beach-based firm specializing in custom equestrian homes, to bring the couple's lakeside fantasy to life.
The gently winding floor plan Weisz conceived takes full advantage of the lush, waterfront landscape and showcases a successive series of open and airy spaces that make enticing gathering spots for the family and their guests.
In the formal living room across from the foyer, Weisz mixed one-of-a-kind accouterments, such as a rare Turkish rug and a pair of vintage, reclaimed wood-carved doors mounted on acrylic that serve as cocktail tables, with more contemporary selections, like the Greco sofas in graphite from the Roberta Schilling Collection. Equine photographs, shot in black and white by Holly Roesch, hang above in tribute to Wellington's iconic horse culture while low-profile pieces, such as a tufted ottoman in pseudo-suede fabric, offer clean site lines of the wet edge swimming pool outside. At night, concrete fire bowls light up so "when you walk in through the front door and see the fire and pool, it's very cool," Hynes says.
Adjacent to the front door, a formal dining room stands ready for a bacchanal feast with a custom, black-stained, ash wood table that seats 12. Fibrous linen window treatments, embroidered in warm tones of taupe, brown and gray, display dark, oil-rubbed hardware and acrylic finials that reference the crystal in the wall sconces and Currey & Co. wrought-iron chandelier. Across the way, a wine room primped with a feature wall fashioned from custom-colored woods from the Jaime Beckwith Collection houses the couple's favorite vintages.
Sleek bayou acacia wood floors procured locally from a supplier in Wellington etch a path to the family room, a seismic space with a 35-foot footprint. "Since the outdoors are so lovely and they [clients] like to entertain and have tons of kids over swimming all the time, Heather had the idea to have two sectionals mirroring each other," says Hynes, "so one kind of looks outside at the beautiful landscaping, and the other faces the television." Under Weisz's gimlet watch, the ceiling beams were given gravitas and stained three times, flecked with gray and white paint and smoked out with a brush until they achieved the level of warmth she wanted. Two separate sets of oversized glass sliders blend the indoors with the outside, when opened, and lead to the pool area and an outdoor living space with a fireplace, televisions, seating, and an island kitchen.
Staying in step with Jen's vision for a bright, light-drenched kitchen that locks in plenty of functionality, Hynes and Weisz selected a color palette that wove in pops of navy in timeless shades. On the backsplash, 3D, geometric tiles bring a touch of edginess and complement the custom, Shaker-style cabinetry. Kid-friendly counter chairs with easy-to-wipe-clean leather hunker beneath one of two sapienstone island countertops.
To add an extra layer of convenience when the couple entertains or hosts out-of-towners, the space is endowed with a built-in breakfast bar complete with a panel-ready, under-counter ice machine, a second dishwasher and refrigerated drawers that store cold drinks and snacks.
In the first-floor master bedroom, they created a luxurious, resort-inspired retreat where the Johnsons could escape to slumber and disconnect. Walls are covered in neutral gray grasscloth while pops of white in the linen drapes and the side chairs at the foot of the Bernhardt canopy bed pull the eye around the room and heavenward toward the intricate coffered ceiling.
Hanging pendants free up space on the nightstands and switches located by the bed easily turn overhead lights on and off. Past the sliding glass doors lays another one of the home's highlights.
"Walk along the cast stone pavers floating in beautiful green Zoysia grass,  and you'll land straight into the Jacuzzi," Weisz says. "My idea was the kids are upstairs playing, and mom and dad could sit in the Jacuzzi with a glass of Champagne and enjoy that view."
Past Jen's makeup station, an extra spacious walk-in closet, and a small breakfast nook fitted with a small fridge and hanging shelves, a short hallway leads to the Carrara and Stratuario marble-imbued master bath. The sink, designed by Hynes and Weisz, is wrapped in a stainless steel veneer and fitted with acrylic handles, flab front drawers and a marble waterfall countertop edge.
Three different tiles form the back feature wall, and a small-format mosaic adds texture to the wet floor in the shower. Toto smart toilets and rain and waterfall showerheads lend to the sumptuously well-appointed scene.
On the second floor, where the children's rooms are located, sits a large open-concept room at the top of the stairs. Conceived with the kids and overnight visitors in mind, the sunlight-dappled space harbors a sideboard with a table and chairs where anyone can work, paint or play cards. On the other, a comfy sitting area awaits with a linen and walnut wood sofa, a teak QS Le Main chair and a flatscreen television perfect for a movie or game night.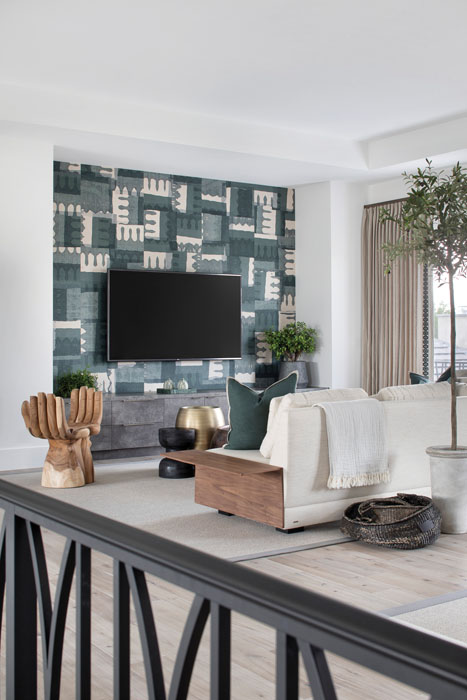 "We definitely wanted everything to be more playful and whimsical here," Heather says, deftly summing up the HW Interiors way.
Facebook Comments