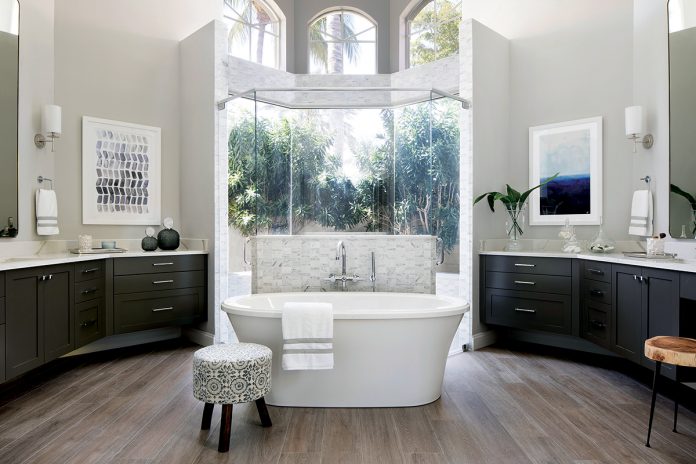 As the creative director of KRISTA + HOME, Krista Watterworth Alterman spent four seasons hosting HGTV's "Save My Bath" designing almost 60 different bathrooms. She encourages her clients to think of their master bathrooms as their own personal spa and to let her design accordingly.
"I love zen-like retreats for my clients to relax after a long day," Alterman says. "As a working mom today, I know the importance of a good spa day."
In one project, Alterman used a balance of masculine and feminine elements. She used a charcoal finish on the cabinetry to contrast the porcelain oak flooring, which was carried throughout the home. To add to the sensual vibe, she included an exposed shower with floor-to-ceiling views of the lush tropical foliage on the property.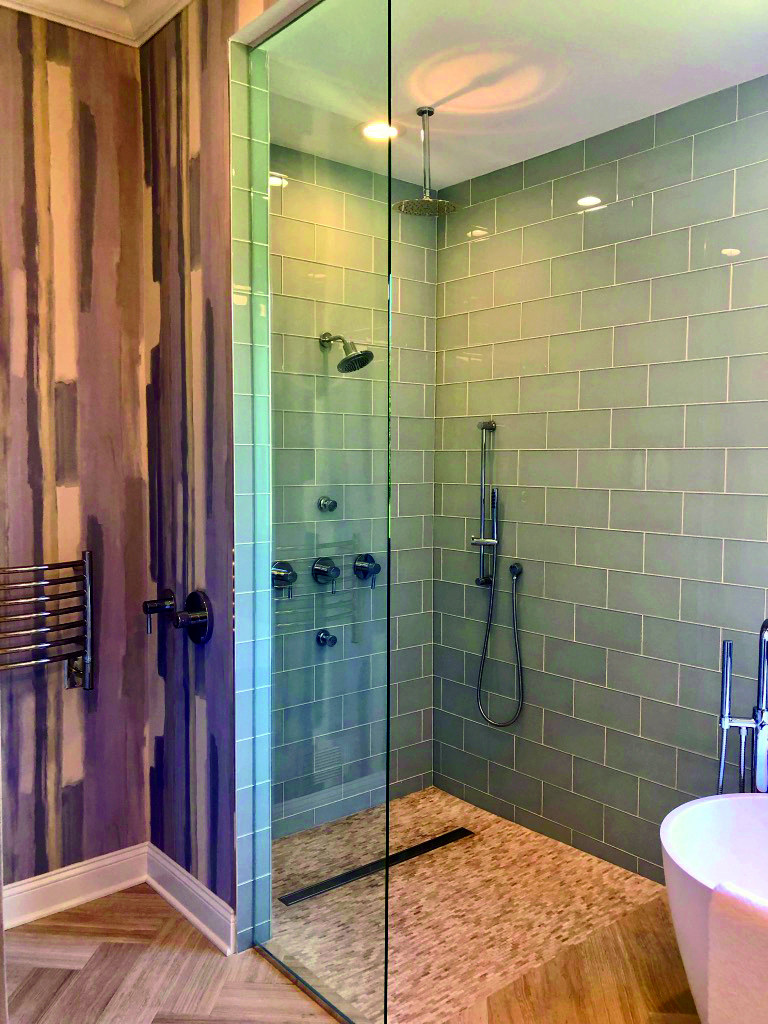 Alterman likes to incorporate natural, organic materials for her designs. While marble is her first choice, she notes there are many other stunning options. She also encourages using soothing hues, such as soft neutrals in gray or white palettes.
The most important feature? Alterman says the tub should be the focal point. She likes to install stand-alone tubs that are a work of art on their own. A deep soaking tub is the perfect place to relax and unwind. For added luxury, consider installing elements like a steam shower, towel warmer, or a luxurious toilet with a heated seat and bidet.
Keri Feeney, Angelika Stuart and Alicia Weaver of Alicia Weaver Design have also completed many spa bath renovations. They like to start with a soothing color for the walls, cabinets and trim to set the tone of the room and the overall design. They say adding a wallpaper that can withstand humidity can also create a whole other dimension to the room.
The group also used natural stone and porcelain tiles on the walls and ceiling of a bathroom to achieve that luxurious spa feeling. In larger bathrooms, they mix and match patterns and different types of stone.
Small details can't be missed. At a spa, there are always towels and robes at your fingertips, so Alicia Weaver Design likes to mimic this in a home spa as well. They replace towel bars with several robe hooks so you can hang everything within reach of your shower or bath.
What can you do to get the look?
1. KRISTA + HOME and Alicia Weaver Design agree that towels are extremely important for an at-home spa look. Alicia Weaver Design says, "Easy ways to pull the spa look and feel all together are using big, white, fluffy towels, rolled up on an open shelf for easy access." Alterman adds, "I always tell my clients to get the fluffiest, most luxurious towels they can buy."
2. Alicia Weaver Design notes the importance of setting the mood with music. "Spas always have the melodic tunes gently playing in the background, so we love to recreate this in our designs. We love Sonos Play:1 speakers for bathrooms."
3. Alterman enjoys adding seating elements to her bathrooms. "If there is space, I love to install some seating or at least a little pouf or stool where my husband can sit and chat with me while I am relaxing in the tub."
4. Both teams emphasize bathroom lighting. Alterman might lean toward a stunning chandelier or recessed lighting under the cabinetry to create a soothing atmosphere. On the other hand, Alicia Weaver Design says to make sure all lighting is on a dimmer switch for those long, hot baths at night. "We also use LED candles on timers as an accessory when styling our bathrooms," Weaver says. "You can set them to come on every night and turn off automatically. This will create a very zen mood without even having to think about it."
5. Alicia Weaver Design recommends several bonus items to finish a spa look, such as integrated towel warmers and selecting the right shower head, with a steam shower system being another possibility.
Facebook Comments