Meghan Leckey's earliest Christmas memories don't include palm trees or sandy beaches. Growing up in Chicago, her childhood holidays meant snowy winter weather and large family gatherings.
"The houses were fully decorated and my sister and I would sleep at our grandmother's on Christmas Eve so we could arise early to see our presents," says Meghan, the owner of Fort Lauderdale's Shooters Waterfront restaurant and catering company The Grateful Palate Catering & Events. "I loved the food, festivity, and family traditions. They have stayed with me for a lifetime."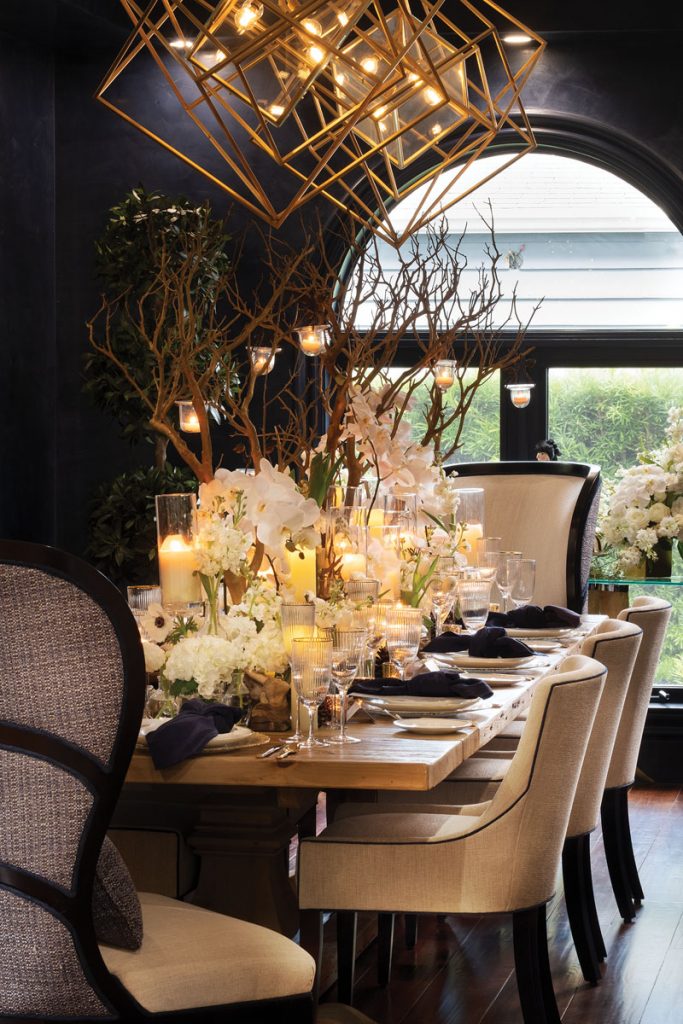 Meghan savored her family's traditional Midwestern Christmas menu of turkey, ham, stuffing, cranberry sauce, green beans, marshmallow surprise—plus apple, pumpkin, and cherry pies. But as she grew up and became a successful restaurateur and caterer, she started hiring a chef to enhance the cuisine at her holiday parties. 
"I love to host Christmas dinners and other parties each year in our Fort Lauderdale home, but I never cook," she says. "I do the menu and decorate the table and decor, but I leave the cooking to a chef."
Meghan met her husband, Justin Leckey, in Fort Lauderdale while visiting her parents at their winter home in 2004. Now in asset management, Justin was working as a Coast Guard helicopter rescue swimmer in the area at the time.
After their marriage in 2008, the couple moved to San Diego for two years before returning to Fort Lauderdale for Justin's Coast Guard work. "My whole family was in Fort Lauderdale then, and I was so glad to move here," says Meghan, who shares two children Vivienne, 9, and Preston, 6, with Justin.
In 2014, Meghan and her father, William McIntyre, bought Shooters, put money into renovating it, and transformed the Intracoastal icon into an unpretentious yet upscale gathering spot. McIntyre already owned Grateful Palate and asked his daughter to oversee it. Today, the catering arm hosts weddings and other private events.
Having her own restaurant and catering chefs to help out with holiday parties makes entertaining at home much easier for Meghan. Each Christmas season, she hosts a holiday dinner for 30 friends and neighbors. Guests wear pajamas, a company chef cooks, and they celebrate amid the lovely holiday decor in her spacious open home. Christmas Eve is spent at Meghan's parent's Fort Lauderdale home, and Christmas Day finds Meghan's entire family celebrating Santa with the Leckeys.
"My family prefers the snow and old-school Christmas feel of being up north, so we see them at a different time," says Justin. "And since Meghan and I have a place in Chicago that we visit regularly with the kids, we can also indulge the cold weather fun during different days of the holiday season. We love it all!"
For this ivory and gold winter wonderland–themed holiday party, Meghan and Justin invited friends to enjoy a night of food, drink, and festive decor with traditional Christmas music playing in the background. 
In the elegant living room, a roaring fire was surrounded by a gray and white mosaic tile mantel topped with pinecones, evergreen, arborvitae, a manzanita tree, and different levels of glowing stem and pillar candles. Next to it stood a tall illuminated Santa holding cranberries.
Across the room, a massive Christmas tree decorated with colored ornaments was made more stunning by the artistically wrapped gifts underneath. Justin worked his magic using colorful layers of paper, ribbons, and bows. "This scene reminds me of my mom's tree," says Meghan. "Since my mom was a party giver, I learned everything from her!"
As guests arrived, Justin joked that this is "Meghan's show," and his "only job is to light the fire and make sure guests have enough to drink." True to form, he ensured guests were sipping the evening's signature cocktail of bourbon-infused apple with vanilla and honey.
Cocktails in hand, guests were wowed by the elegant decorations and festive scene—including a stunning ice sculpture surrounded by white orchids, vodka, and chilled appetizers of Kumamoto oysters and caviar. Passed appetizers included Belletoile brie, warm brioche, fig preserves, salmon tartare cones, and Alaskan king crab dragon eggs. 
In the dining room, the party's tablescape featured a dazzling centerpiece of all white florals: hydrangeas, spray roses, ranunculus, and phalaenopsis orchids entangled with accents of evergreen and pinecones. Glass candlesticks and gold mercury votive candles with golden manzanita branches cascaded throughout the display.
"We wanted a luxurious table done in layers," says designer Brittany Madon of Floral Britanica. "I used a mirrored base to trick the eye and a variety of different sized candles, both real and mechanical. The florals go up and down and look as if they are still growing. It is very organic."
Frosted glass gold chargers, Coupe white china with gold rims, Markle crystal stemware with gold rims, Bengaline navy napkins, and brushed-gold flatware defined the elegant place settings. Meghan added a menu and place card for each guest.
The chef began the dinner with small bites of Nori-dusted Hokkaido scallop, green Thai curry, and sweet soy pearls served in a scallop shell, followed by Bluefin tuna poke with crispy wontons and English cucumber, as well as micro rainbow greens served in a halved coconut shell. The salad included poached pear and beet duo, frissé-radicchio, goat cheese mousse, and toasted pistachios.
"This is an end-of-the-year holiday celebration, so I went over the top," says chef James Cawley, culinary director of Grateful Palate, who served Kistler Chardonnay and Nickel & Nickel Cabernet Sauvignon wines with the multicourse meal. "We wanted to elevate a traditional classic Christmas dinner and whoop it up."
After the intermezzo of Belvedere blackberry granita, the entree was seared Wagyu filet and seafood-stuffed lobster with whole roasted garlic, baby carrots, heirloom tri-color fingerlings, and roasted brussels sprouts. Dessert was rose tres leches cake, eggnog creme anglaise, gold flakes, wild berries, and micro-mint chocolate chips.
An additional treat (displayed beautifully on a separate table at the rear of the dining room) was a mix-and-match masterpiece of holiday sweets, including gingerbread cookies, cranberry orange spice cake, and red velvet cake with creme cheese—all created by pastry chef Monica Palacio.
As fully sated guests prepared to leave after a wonderful evening of holiday cheer, attendee Lacey Grabel summed up the best attributes of the hosts: "Meghan and Justin are the most thoughtful, kind, sincere, and easy people who emit love. They truly embody the Christmas spirit."
Facebook Comments