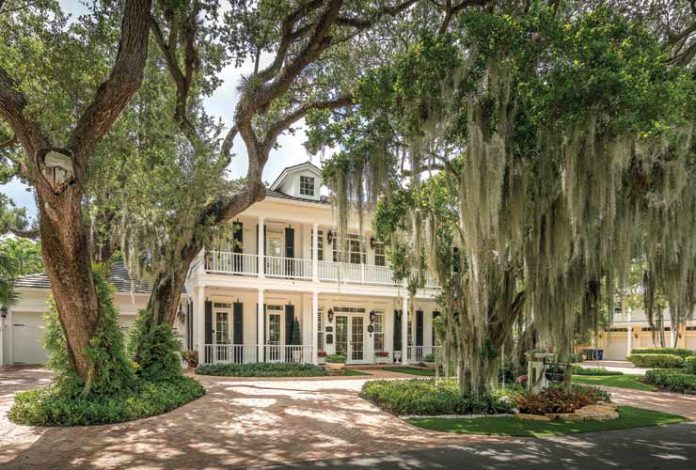 Unlike many South Floridians today who prefer sleek, contemporary decors, the owners of a two-story plantation-style home in the Colee Hammock neighborhood of Fort Lauderdale wanted something classic.
So, interior designer Aaron Taber of Retro Interiors in Fort Lauderdale went to work using rich, dark woods, traditional furnishings and fine fabrics to create a home that is elegant and beautiful, yet comfortable and pet-friendly for the owners' two beloved golden retrievers.
Taber had designed a smaller home, a bungalow in Victoria Park, for the same clients several years ago. Now, the semi-retired couple wanted something larger, partly to better accommodate an elderly family member who was living with them. The couple had always dreamed of living in a plantation-style home, and this one seemed to fit their needs especially well because it has two complete master suites—one upstairs and another easily accessible one on the ground floor.
Taber has been working in the interior design industry for 24 years, but he began experimenting long before he became a professional.
"When my parents would go away for a weekend, I'd rearrange the furniture," he recalled with a smile.
After originally considering a career in architecture, he found interior design to be a better match for his creative interests.
"I'd always dreamed of a profession that would constantly be changing, and in this one, every project is different," he says.
Although the name of the firm is Retro Interiors, Taber designs all kinds of decors, including contemporary, transitional and traditional.
A classic exterior
Although the 5,000-square-foot home with four bedrooms and 4.5 baths is only about 10 years old, the exterior has the classic look of a century ago. Two large trees hung with graceful Spanish moss shade the paved driveway and frame the front of the home, which has French doors, elegant pillars and mullioned vertical windows that run almost floor to ceiling. A covered veranda on the first floor and a second-floor balcony, both bordered with decorative spindled white railings, stretch the length of the façade.
High ceilings, warm colors
Inside, ceilings soar to 11 feet throughout the first floor and rise to 10 feet on the upper story. The designer chose a color palette of warm honey, caramel, bronze and celadon green, soft hues that contrast dramatically with white millwork. Instead of the typical porcelain tiles so common in South Florida, floors throughout the home are dark walnut planks. "The owners like the warmth of wood," Taber says.
A sweeping staircase creates a dramatic focal point in the foyer. In front of the stairs is a large, hand-knotted rug in tones of bronze, celadon and honey, while the wood stairs themselves, which are flanked by elegant railings with white spindles and dark mahogany caps, are carpeted.
"They wanted to be sure their elderly dog wouldn't slip on the stairs, and they also wanted it to be soft on their own feet," Taber says.
Ads disabled for admin
Google AdSense 728×90
Hanging above the staircase is a visually arresting, triple-tiered bronze chandelier with crystal column accents and silk shades in a pale caramel tone. At the top of the stairs, visible from the foyer below, are framed scenes of the Everglades by a local photographer.
Two diminutive, semi-circular walnut chests flank the immediate entrance to the foyer. At the back of the space on either side of the staircase are two rectangular chests accented with burl wood marquetry insets, and carved alabaster lamps with shantung silk shades. Above them hang fluted, gold-framed mirrors.
"I wanted perfect symmetry when you walk in," Taber says.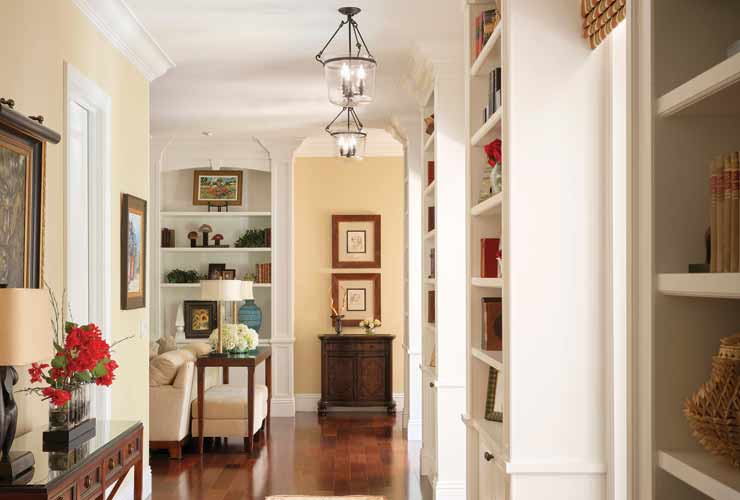 The Dining Room
On one side of the foyer is the formal dining room where honey-colored silk draperies hanging from walnut rods with hand-carved finials frame floor-to-ceiling windows, adding softness and texture to the space.
"I wanted to wrap the room in fabric to make it cozy when they're entertaining, whether it's for an elegant dinner or an informal brunch," Taber says.
The rectangular, double-pedestal walnut table comfortably seats eight, and cross backs add interest to the matching chairs. Underneath is another hand-knotted rug in shades of pale caramel and celadon green, while a breathtaking bronze chandelier draped in elegant crystals hangs above. A large walnut buffet with marquetry detail has drawers to hold linens, and a ball lamp with a seashell motif adds a South Florida feel.
Above the buffet hangs a large, original seascape oil painting, and on the opposite wall between two windows is a small, gold-framed vertical painting of coral-colored flowers, adding a splash of color to the room's neutral décor.
Kitchen and Family Room
Just off the dining room at the entrance to the kitchen is a butler's pantry for storing non-perishable food, dishes and flatware. A door can be closed to shut off the pantry, keeping any cleared dishes or other messiness out of the sight of diners.
In the kitchen itself, Taber refinished the existing dark cabinetry with white lacquer for a bright, fresh look and added new, polished nickel hardware.
The couple loves to cook, and a 5-foot-wide gas range under an arched white hood makes preparing meals convenient. The designer added a wine cooler to the existing large, granite-topped rectangular island, and for seating at casual meals, he chose four swiveling stools with walnut frames, bronze leather upholstery and nail head detailing. Above the island are three large, half-sphere milk glass pendant lights suspended from chains that match the fixtures' polished nickel bands.
The kitchen is open to the family room, where Taber created a more casual look than in the rest of the home. He began by closing in a window to accommodate a white lacquer wall unit that complements the kitchen cabinets. In the center is a large TV screen, and on both sides are open shelves with glass inserts so recessed lights in the ceiling can shine through. Storage drawers and cabinets are underneath, and above the screen are additional shelves with glass doors.
Slipcovers that can be easily washed protect two comfortable sofas from doggy footprints. There's a pair for each sofa—one camel and one aqua—so one set can be used while the other is being laundered. The glass top of a wood coffee table is also easy to clean. On the floor is a rug in a blend of caramel, aqua and celadon.
The Living Room
On the opposite side of the foyer is the living room. Draperies framing the windows match those in the dining room, creating continuity between the two spaces that are visible to each other. On the wall between the windows are two small, framed original oil paintings.
The centerpiece of the room is a wood-burning fireplace with a classic white marble facing and a custom-made iron screen. Two celadon green, Asian-style porcelain accessories accent the fireplace's white mantle, while above it hangs an oil painting done in soft colors depicting a nature scene. Twin built-in shelving units flanking the fireplace provide space to display family photos, books and collectibles, and cabinetry underneath offers storage.
In front of the fireplace, two comfortable matching sofas upholstered in cream chenille and accented with caramel and celadon pillows face each other. Between them is a large, square walnut coffee table with Sheraton legs and hidden drawers. Underneath is a hand-knotted wool-and-silk rug in shades of celadon green and caramel that blend with the colors in the accent pillows, while an antique bronze chandelier with crystal accents and cream-colored silk shades hangs from the ceiling. Two ottomans are conveniently stored beneath a walnut console table behind one of the sofas.
The Hallway
A hallway with twin shelving units flanking French doors to the pool and patio runs behind the foyer from the living room to the kitchen and family room. On the hallway floor is a custom-made, hand-knotted runner that mirrors the look of the rug in the foyer, and suspended from the ceiling is a two-tiered, seeded glass light fixture framed in bronze.
Upstairs
The upstairs master suite has a cherry wood half poster bed dressed with a tone-on-tone caramel-color jacquard-patterned cover and pillow shams. A TV is mounted on a cantilever arm in an art frame set into the wall. Crystal lamps top twin bachelor chests, and a carved bureau provides storage. At the foot of the bed is a bench with mahogany legs, rolled arms and chenille upholstery.
The second upstairs bedroom is done with robin's egg blue walls, white furniture and white bed coverings with periwinkle accents to create a seaside feel. The third bedroom is furnished with family antiques that include an oak bed, armoire and hand-carved hope chest. A desk built into the closet allows the room to be used as a home office, but the door can be closed when guests use the room.
A Timeless Living Space
Taber created a timeless living space that complements the classic architecture of the house, fulfilling the owners' longtime dream of living in a plantation-style home filled with rich woods, antiques and traditional furnishings. It's a design that can remain elegant, beautiful and comfortable for decades.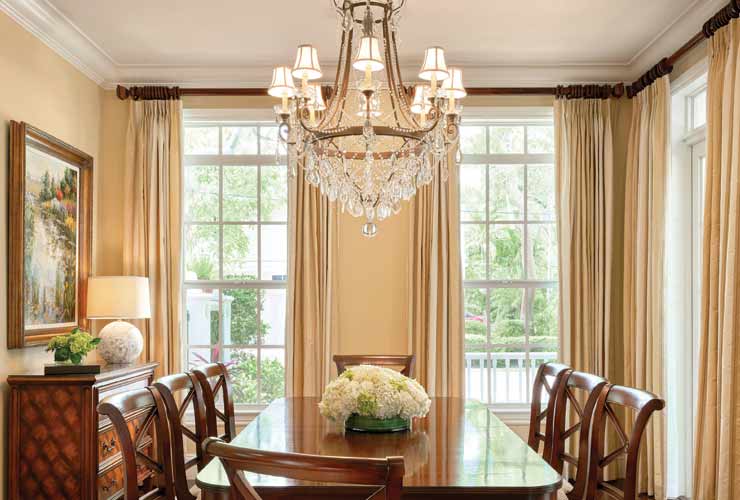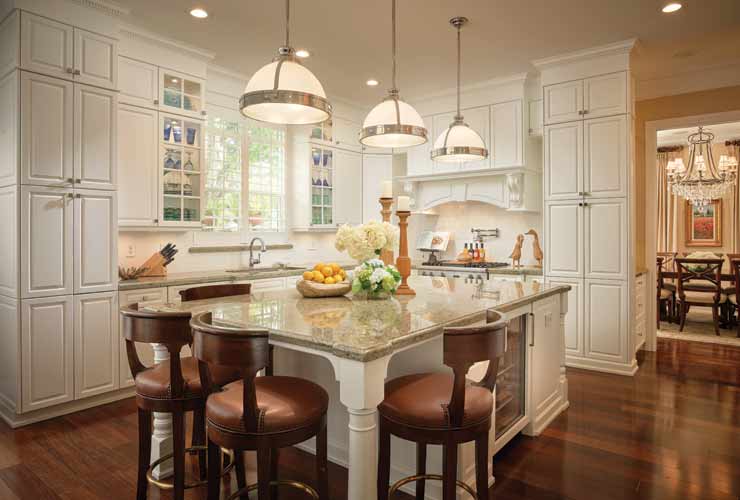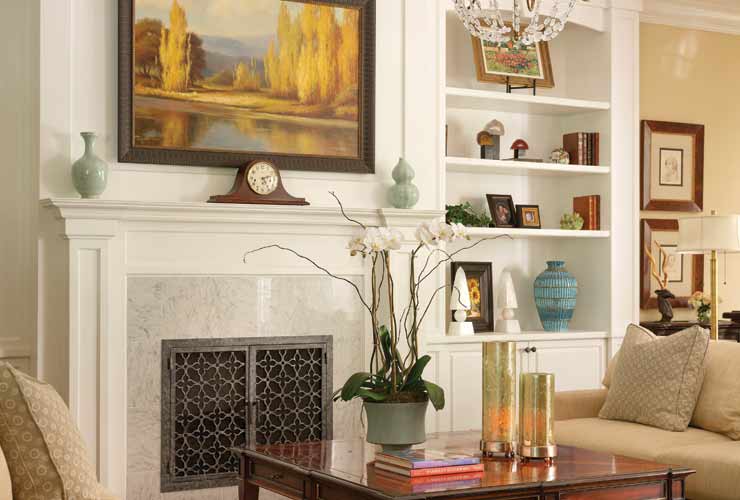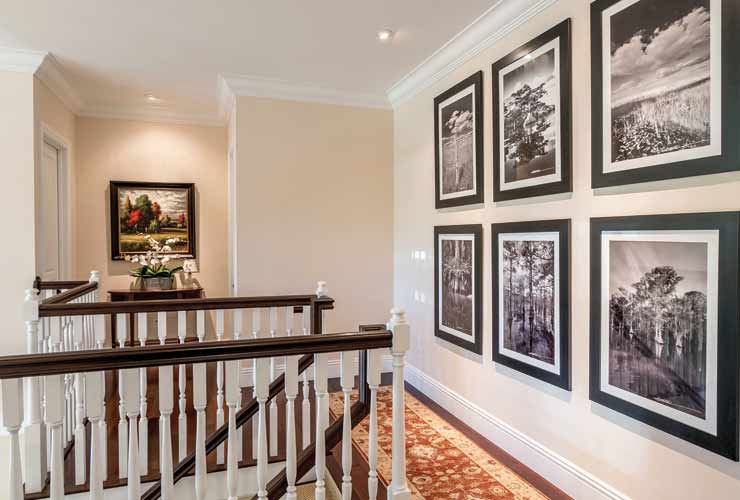 Facebook Comments