Building a "future-ready" home isn't just about smart appliances and high-tech features; prioritizing sustainability is a key piece of the puzzle.
"Greening homes in Fort Lauderdale and across the globe is essential to lessen the climate-change impacts our city is already experiencing," says Glen Hadwen, sustainability manager at the City of Fort Lauderdale. "Changes small and large, from installing LED light bulbs to solar panels, all play a part."
Achieving sustainability in South Florida—with its low elevation, porous geology, humid climate, endangered species, and air rich with sunshine and salt—comes with challenges but is especially important to our delicate environment. Here are some steps you can take to construct a greener home.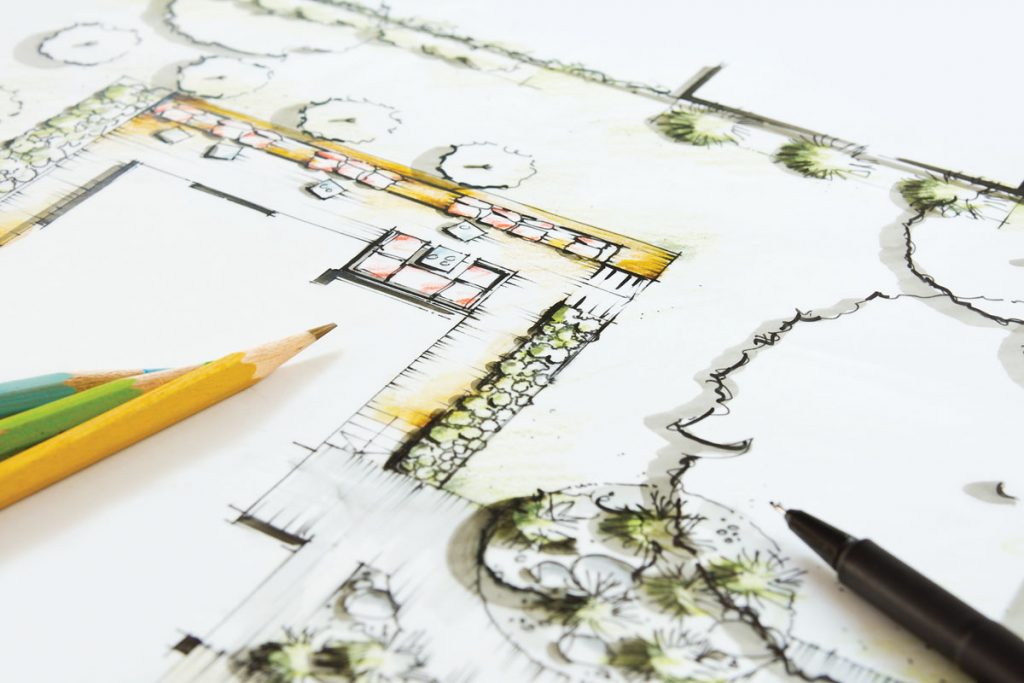 1. Work With Nature
Use biomimicry—designing the way nature designs—as your guide. Aim for minimal site disturbance and maximum green space; work with what you've got to create a space that complements or even regenerates (rather than depletes) the environment.
"Check local zoning and figure out first what you're allowed to do, then look at sustainable strategies and figure out what's best to do," recommends Griffin Morris, president of AIA Fort Lauderdale and senior project manager at Strang—an integrated architecture, engineering, interior design, and planning firm. Account for the threat of climate change, he advises, especially in coastal communities—new builds can employ techniques like elevating the first floor to mitigate potential flooding.
"On a new home build, zoning in South Florida typically requires us to use a base flood elevation (how high the ground can be) and a design flood elevation (how high the first floor of the home must be)," he explains. "Sometimes there's an option for an understory, a covered area below the design flood elevation, usually limited to a garage or enclosed stair. Other zoning areas may require that you add retaining walls and raise the grade on your property."
With Florida's sea level rising as much as an inch every three years, according to NOAA tidal station data, factoring nature's upcoming shifts into construction plans is crucial.
Victor Caban-Diaz, owner/principal of Building Ingenuity, adds that when designing a home, minimizing floor-to-ceiling windows on southern facades allows for indirect rather than direct sunlight to penetrate your home. "This helps keep the house cool," he says. "The sun in South Florida rises and falls to the south of all buildings, which means all walls facing south get direct beams of sunlight, which are the hottest."
To further lessen your impact, utilize native plants and permeable pavement, and plant trees: Contributing to the tree canopy not only helps the planet, but the added shade keeps your home cooler naturally, resulting in energy savings.
Other examples of biomimicry in action take a page from self-cleaning plants like the hydrophobic lotus to develop a glass that "self-cleans" every time it rains, conserving energy (and window-washing costs); a recently built LEED Platinum-certified home in Texas is outfitted with a roof that relies on "thermosyphon ventilated" technology similar to the way temperature is regulated inside termite mounds. Homes can even be designed to manage 100 percent of stormwater runoff, repurposing the "gray water" to irrigate landscaping.
2. Use Earth-Friendly Materials
Achieving home sustainability requires an exacting look at the very materials you're using to construct your abode. Seek out non-toxic and ecologically responsible building materials, such as natural finishes that are sustainably harvested, renewable, or even recycled; rammed-earth walls and wool insulation are also solid options that are light on both the earth and your home.
Moreover, ensure your materials are not harmful to your family nor your surroundings. Recent developments include plywood that can be manufactured with an amino acid produced by the blue mussel mollusk, thus free of volatile organic compounds (VOCs), which are noxious chemicals emitted from many materials commonly used for interiors. Beachfront homes can use specially tinted "turtle glass" to protect against harmful light pollution that draws sea turtles inland, away from the ocean.
And instead of relying on the carbon-heavy global supply chain, "wherever possible, install finishes sourced from local manufacturers to lessen energy consumption from transporting materials from far locations," says Caban-Diaz. Plus, locally grown materials are naturally suited to quirks of the local climate.
As you build, shoot for Green Home Standard certification by the Florida Green Building Coalition (FGBC).
3. Choose the Right Roof
Choosing a roofing option that can lower the amount of heat your home absorbs and maximize the green potential of your space depends on your roof's angle, the structure supporting it, local code, and your budget.
"Don't neglect the view from above," advises Max Strang, founder of Strang. "Beauty can come in the form of solar photovoltaic, planted roofs, and robust tree canopies," he says.
Planted roofs are either intensive, using a deep layer of soil to support plant life that can make your roof  look like a planted yard, or extensive, which uses a tray system with a thinner layer of soil. Plant options for the latter are smaller, but they weigh less and are easier to install and repair.
"Both systems help reduce heat gain from the sun (radiation) and the outside air (convection)," adds Morris. Strang sometimes sets the second floor of a home back farther than the first floor, installing a green roof in the resulting space to give residents privacy and a connection to nature.
Also popular are solar roofs—covered in photovoltaic cells that convert sunlight directly into electricity. Tesla solar tiles can pay for themselves through the energy they harvest; you can monitor your real-time energy production and control your system remotely through the Tesla app. Pair it with a Powerwall, Tesla's home battery that stores the energy your tiles produce, for backup protection in case of outages.
Alternatives include blue roofs, which store rainfall and then gradually release it, and cool roofs, which reflect sunlight to reduce the transfer of heat to the building. Caban-Diaz also advises using light-colored tiles on sloping roofs. "Dark colors absorb heat that transfers into the home and causes more work for your air conditioning units," he says.
Coming Soon
Poseidon Habitat Seawall, which fabricates ocean-friendly seawalls—available for waterfront residences—will soon be operational in Fort Lauderdale. Instead of the typical flat concrete, which is inhospitable to sea creatures, "living" seawalls provide crannies and crevices in which fish and filter-feeders can take up residence, cleaning and nourishing the ecosystem of local waterways as they go. Where possible, it's best to cultivate a self-sustaining natural shoreline.
Old Home, New Tricks
If you're looking to green up the home you have, you've got options:
• Join a Broward County solar co-op to draw power from sunshine at a lower price.
• Fort Lauderdale residents can participate in the Property Assessed Clean Energy (PACE) program, which incentivizes energy-efficient and hurricane-resilient improvements such as impact-resistant windows, HVAC replacements, and solar panel installations, providing as much as 100 percent of the upfront funding.
• Pocketbook perk: The Broward Water Partnership's Conservation Pays program offers free low-flow aerators and showerheads as well as $100 rebates for eligible replacements of older, water-inefficient toilets.
• Contact a local plumber to install a heat-pump water heater, which draws ambient heat from our ever-warm air instead of generating heat, lowering operating costs and energy consumption.
Facebook Comments